Hero Bikes Price in Nepal 2023 (Aug-Sept)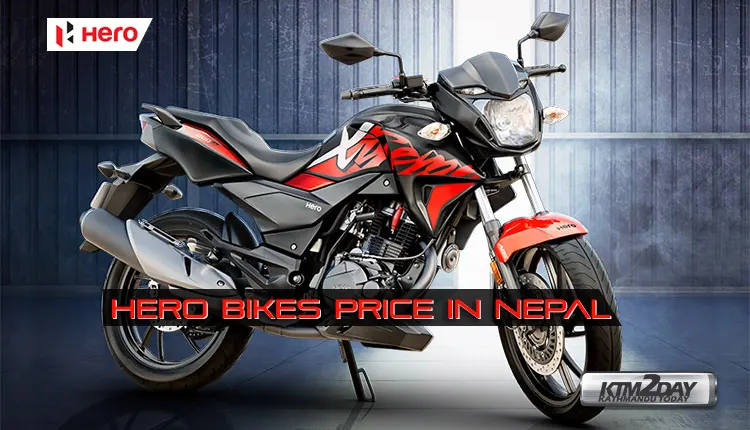 Hero MotoCorp is the world's single largest two-wheeler motorcycle company. It was formed in 1983 when Honda Motor Company of Japan and the Hero Group entered a joint venture to set up a manufacturing plant in India.
Since then, the company has seen tremendous growth, becoming the world's largest motorcycle manufacturer in terms of volume in 2001.
It now produces more than five million bikes each year and has a total production of over 40 million bikes since its inception.
It offers a wide range of bikes, starting from CD Dawn, CD Deluxe, Splendor Plus, Splendor NXG, Passion, and Passion Pro.
Hero MotoCorp has pioneered the introduction of fuel-efficient, environment-friendly four-stroke motorcycles, and has recently partnered with Erik Buell to tap into the latest technology. It is also keen to acquire Ducati, furthering its presence in the global motorcycling market.
HERO Bike Price in Nepal
HERO Bikes Price in Nepal 2023
Image
Model
Price NRs.
Hero Maestro Edge 125
125cc, BS6, FI
Max. Power : 6.7 kW (9 bhp) @ 7000 (rpm)
Max. Torque : 10.4 Nm @ 5500 (rpm)
Front Disc, Rear Drum Brakes
Fuel Tank Capacity : 5 Litre
Kerb Weight : 112 Kg

2,66,000
Hero Xpulse 200 4V
199.6 cc, BS6, Fuel Injection
Max Power :18.8 bhp @ 8,500 rpm
Max Torque :17.35 Nm @ 6,500 rpm
Fuel Tank Capacity : 13 liters
Front Rear : Disc Brake
Kerb Weight : 158 kg
4,50,000
Hero Glamour XTec BS6
125cc, BS6, FI
Max. Power (BHP/rpm) : 10.7 @ 7500
Max. Torque (Nm/rpm) : 10.6 @ 6000
Front Disc, Rear Drum Brakes
Fuel Tank Capacity : 10 liters
Kerb Weight : 123 kg

2,76,000
Hero Xtreme 160R DDS
Air cooled, 4 Stroke 2 Valve Single cylinder OHC
163 cc
Power : 11.2 kW (15 bhp) @ 8500 rpm
Torque : 14 Nm @ 6500 rpm
Fuel Tank : 12 Litre
3,43,500
Hero Hunk 150R ABS
Air Cooled, 4 – stroke single cylinder OHC
149.2 cc
Power : 14.4 PS @ 8500 rpm
Torque : 12.8 Nm @ 6500 rpm
Fuel Tank : 12.4 Litre
3,01,000
Hero Destini LED - Check Details
Air-cooled, 4-stroke, SI engine, 125cc
Maximum Power : 8.7 BHP @ 6750 rpm
Maximum Torque : 10.2 Nm @ 5500 rpm
Number of Gears : Automatic
Ground Clearance : 155 mm
Kerb/Wet Weight : 111.5 kg
Self- Start/Kick-Start
2,22,500
Hero Pleasure Plus
110 cc,Self/Kick,Drum,
Maximum Power : 6.0 kW (8 BHP) @ 7500rpm
Maximum Torque : 8.70 Nm @ 5500
Kerb Weight : 101 kg
Fuel Tank Capacity : 4.8 litres
1,97,500
Hero Pleasure 110 PED
110 cc,Self/Kick,Drum,
Maximum Power : 6.0 kW (8 BHP) @ 7500rpm
Maximum Torque : 8.70 Nm @ 5500
Kerb Weight : 101 kg
Fuel Tank Capacity : 4.8 litres
2,07,000
Hero Pleasure - Metal Sheet
102cc, Self/Kick
Air-cooled, 4-stroke single cylinder OHC
Maximum Power : 5.15 KW (6.9 BHP) @ 7000rpm
Maximum Torque : 8.1 Nm @ 5000 rpm
Fuel Tank Capacity : 5 Litre(Min)

1,78,500
Hero Duet VX
Engine Size(cc) : 110
Mileage(kmpl) : 45
Fuel Capacity(L): 5.5
Transmission : Auto
1,93,500
Hero Dash - LX
Hero Dash - VX
110cc,Mobile Charging Socker, External Petrol Lid
1,67,500
1,76,500
Hero Maestro Edge LED
110 cc, Self- Start
Air - Cooled, 4 - Stroke Single Cylinder OHC
Automatic Clutch, Variomatic Drive
Maximum Power : 8 BHP @ 7500 rpm
Maximum Torque : 8.7 Nm @ 5500 rpm
Kerb Weight : 110 kg
2,18,500
Hero HF Deluxe DRS
Air cooled, 4 - stroke single cylinder OHC
97.2 cc, Kick / Self Start
Max Power : 6.15 kW @7500 rpm
Max Torque : 8.05 Nm @ 5500 rpmMax : 87 Kmph
Kerb Weight : 107 kg
Fuel Tank : 9.5 Litre
Reserve : 1.5 Litre
Drum Brake
1,78,000


Hero Splendor+
100cc, Self/Kick
Max Power : 6.15 kW @7500 rpm
Max Torque : 8.05 Nm @ 5500 rpm
Kerb Weight : 109 kg
Fuel Tank : 11 Litre
Reserve : 1 Litre
Drum Brake
1,90,000
Hero Super Splendor i3s
125cc, Self/Kick
Max Power : 6.7 kW @7500 rpm
Max Torque : 10.35 Nm @ 5500 rpm
Kerb Weight : 123 kg
Fuel Tank : 13 Litre
Reserve : 0.6 Litre
Drum Brake
2,07,500
Hero Splendor PRO
100cc,Self/Kick,
Drum Brake
1,61,500
Hero Splendor iSmart 100
100cc
Drum Brake
1,62,500
Hero Passion Pro
100cc, Self/Kick
Drum Brake
1,78,500
Hero Splendor iSmart i3S New
110cc
Max Power : 6.7 kW @7500 rpm
Max Torque : 9 Nm @ 5500 rpm
Kerb Weight : 115 kg
Fuel Tank : 8.5 Litre
Reserve : 2 Litre
Drum Brake
1,83,500
Hero Glamour i3S
125cc
Self/Kick
Disc Brake
2,36,500
Hero Glamour DSS (SV)
125cc
Air cooled, 4 - stroke
Single cylinder,Self start
Drum Brake
2,18,000
Hero Achiever i3s
149cc, 5 Gears
13 bhp @ 8,000 rpm
13 Nm @ 5,000 rpm
53 kmpl
Disc Brake
2,30,000

Hero Xtreme
150cc
Double Disc Brake
2,28,500
Hero Xtreme
149cc
Disc Brake
2,19,500

Hero Xtreme Sports
150cc
Max Power : 15.4 PS (8 BHP) @ 8500rpm
Max Torque : 13.50 Nm @ 7000rpm
Disc Brake
2,55,000
Hero Xtreme 200R
200cc , ABS
Mileage-39.9 kmpl
Top Speed-112 kmph
18.1 Bhp @ 8000 rpm
17.1 Nm @ 6500 rpm
Fuel Tank Capacity 12.5 litres
2,95,500
Hero XPulse 200
Air cooled, DDS
4 Stroke 2 Valve
Single cylinder OHC
199.6 cc
13.5kw/18.4ps @ 8000 rpm
17.1 Nm @ 6500 rpm

4,03,500
Hero XPulse 200T
Air cooled,
4 Stroke 2 Valve
Single cylinder OHC
199.6 cc
13.5kw/18.4ps @ 8000 rpm
17.1 Nm @ 6500 rpm
3,52,500
Hero XPulse 200S
Air cooled,
4 Stroke 2 Valve
Single cylinder OHC
199.6 cc
13.5kw/18.4ps @ 8000 rpm
17.1 Nm @ 6500 rpm
3,22,000
Hero Karizma ZMR
223cc,Self,Disc
Max Speed : 129 kmph
5 Speed
Air cooled, 4- stroke single cylinder
3,23,000
Hero New Karizma
223cc,Self/Kick,
Disc Brake

2,62,000
Hero Karizma Fi
223cc,Self/Kick,Disc
2,86,900
Hero New CBZ DDS
150cc,Self,Disc
2,03,900
Hero CBZ xtreme
150cc,Self/Kick,Disc
1,86,900
Hero Photon
Electric Scooter
1,60,000
Hero New CBZ DSS
150cc,Self,Disc
1,95,900
Hero Splendor PRO Classic
100cc,Self/Kick,
Drum Brake
1,57,500
Hero CD DELUX DRS
100cc,Self/Kick,DRUM
1,24,900
Hero CD DAWN
100cc,Kick,DRUM
1,09,900
HERO Bikes Price in Nepal - Updated on January 2023