Cleveland CycleWerks Price in Nepal 2023 (Nov-Dec)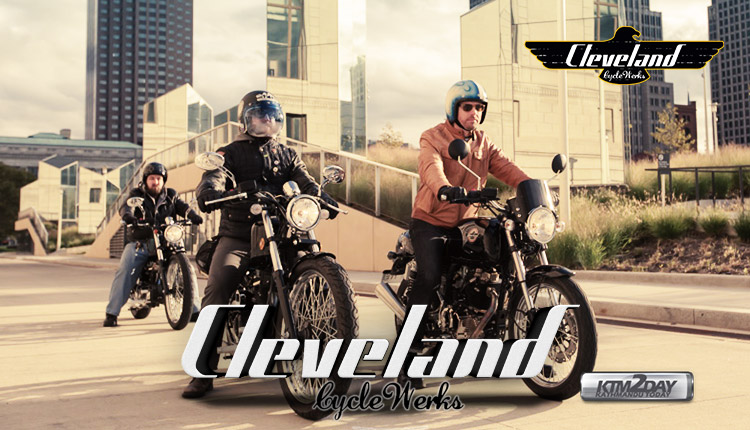 Cleveland CycleWerks is a privately held motorcycle manufacturer that designs and assembles small displacement retro style café racers and bobbers at its headquarters in Cleveland, Ohio, relying on offshore manufacturing in China by CPI Motor Company of Taiwan for most components, including frames and the Honda-derived engine used on all models.
The company was founded by Scott Colosimo, Jarrod Streng, and Curtis Ray in 2009,[3] who sought partner factories in China after being turned away by US parts suppliers, and government seed money sources. The company aims to fill a gap in the motorcycle marketplace for inexpensive yet stylish motorcycles that riders find technologically accessible, easing customization and maintenance.
Marketed in Nepal by Aaju Motors Pvt. Ltd. (AMPL), the company has launched 4 different models of Cleveland CycleWerks motorcycles – Ace Deluxe, Ace Scrambler, Misfit and FX R.
Cleveland CycleWerks Bikes Price in Nepal
CLEVELAND CYCLE WERKS Bikes Price in Nepal 2023
Image
Specs
Price NRs.
Cleveland Cyclewerks Ace Deluxe
229 cc
Peak Power : 15.4 bhp
Peak Torque : 16Nm
5-speed gearbox

4,99,000
Cleveland Cyclewerks Ace Scrambler
229 cc
Peak Power : 15.4 bhp
Peak Torque : 16Nm
5-speed gearbox

5,19,000
Cleveland Cyclewerks Misfit
229 cc
Peak Power : 15.4 bhp
Peak Torque : 16Nm
5-speed gearbox

5,67,000
Cleveland Cyclewerks FXR 125
125 cc
Peak Power : 7bhp @8000rom
Peak Torque : 6.9 Nm @6000rpm
4-speed gearbox

3,59,000
Authorized Dealer : Aaju Motors Pvt. Ltd.
Showroom : Panipokhari, Lazimpat
Contact : +977 1-4443319
CLEVELAND CYCLE WERKS Price in Nepal - Updated on January 2023