UM Global Bikes in Nepal 2023 (Aug-Sept)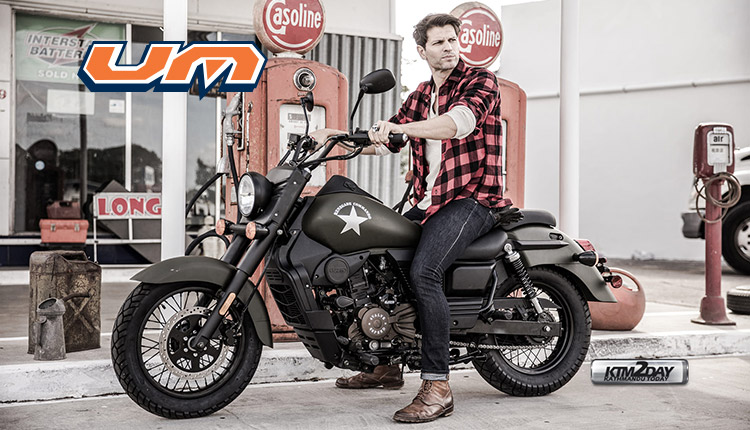 UM-Motorcycles (United Motors) is an American motorcycle manufacturer headquartered in Miami. UM was formed in the early 2000s by Octavio Villegas Llano. The company has a distribution network in 25 nations with 1200 outlets.
UM Motors entered the Indian market with a 50:50 joint venture with Lohia Auto . It has invested 100 crores in a plant at Kashipur, Uttarakhand capable of producing 5000 units a month, and is headquartered in New Delhi. The brand retails in India under the UM Lohia brand name and started operations in 2016. The company has rolled out two 280 cc cruiser motorcycles in India – Renegade Commando and Renegade Sport S.
UM Global Bikes are marketed in Nepal by IME Group which was established in the year 2001, is one of the leading business groups of Nepal .
UM Global Bikes Price in Nepal
UM Bikes Price In Nepal 2023
Image
Model
Price NRs.
UM Renegade Sport 140
138cc
2,65,000
UM Renegade Sport 180
180cc
2,99,000
UM Renegade Commando
230cc
3,75,000
UM Renegade Commando
300cc
6,14,000
UM Powermax 125
125cc
1,88,000
UM DSR 200
200cc
4,00,000
UM DSR 230
223cc
4,35,000
UM Renegade Sports S
300cc
6,22,000
UM Hypersport 230
223cc
4,45,000
UM Nitrox LS 125
125cc
1,85,000
UM Nitrox LX 150
150cc
1,95,000
UM Renegade Duty 125
124cc
2,40,000
UM Xtreet R 180
180cc
2,65,000
UM Xtreet R 200
200cc
2,78,000
UM Xtreet R 230
230cc
2,85,000
UM Xtreet R 230
223cc
2,85,000
UM Hypersport 200
200cc
3,66,999
United Motors Global, UM Global Nepal
UM Bikes Price In Nepal - Updated on January 2023