Lemoto LRF 250 Enduro and Motard Launched in Nepali market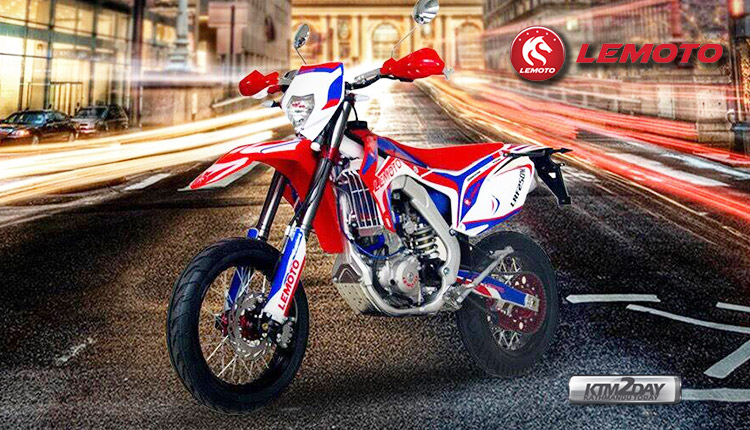 With growing popularity of dirt bikes, many companies are introducing road legal versions of their off-roading bikes. British bike manufacturer, Lemoto, has introduced LRF 250 Enduro and Motard – the road specified brother of the off-road Enduro – to the streets of Nepal. I took the LRF 250 for a spin around Kathmandu testing its performance on city streets and off-road.
The bikes come with LED head and tail lamps, digital speedometre and an aluminium out foot kick stand. Both bikes have a fuel capacity of 7 ltr and give mileage of 22 kmpl. Both the LRF Enduro and the Motard give off the motocross look with bright plastic fairing and a high ride height. The LRF Enduro has a seat height of 950 mm slightly taller that most dirt bikes on the street. The seat height is slightly adjustable for shorter riders but even when the seat height was lowered I had to stretch my legs to touch the floor, and I am not a short rider. The LRF Motard, however, is a bit shorter because of the smaller road tyres compared to Enduro's huge dirt tyres – Enduro is equipped with Dunlop 80 mm front and 110 mm back dirt tyres whereas the Motard version is equipped with Pirelli Rosso II 100 mm front and 140 mm back tyres.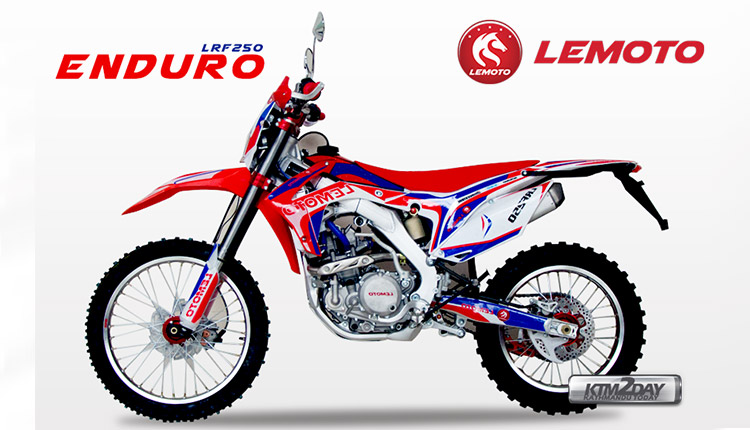 Both bikes come with a single cylinder 4-stroke 249.6 cc water cooled engine with a SOHC 4V timing topping the power off at 34bhp at 9,500rpm. They have torque spec of 23 Nm. With a dry weight of 112 kg the power to weight ratio is more than great making acceleration brutal but fun – you really feel the bike trying to throw you off every time you yank the throttle.
The bikes come with dual exhaust outlets making them very loud. I personally felt that the bike was too loud for the streets but that's a problem easily solved by a decibel level killer. The bikes are equipped with 6-speed manual transmission with smooth constant mesh gearbox. With shorter gearing the power distribution is great for an off-road bike.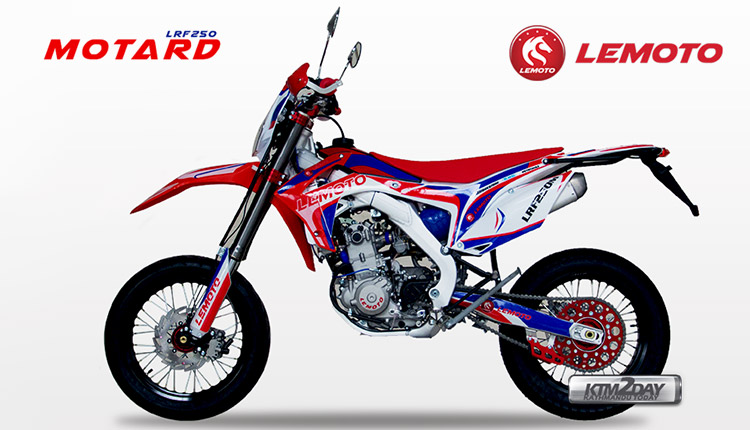 Suspension used is the company's 910 mm front fork with adjustable recovery damping, in the rear the bikes have a single shock absorber with adjustable rebound and compression. In the stock setting, I found the suspension to be a bit stiff for the Enduro model but was okay for the road going Motard – it should be no problem as the suspension is adjustable to your preference.
The Pirelli tyres in the Motard version gives you a good grip while cornering. Being a road going version of the dirt, it does inherit some the off-road capability but has limited off-road performance. With the Enduro model the bike felt a little unstable. The Dunlop tyres give the bike a good grip on straight roads but it is not very corner friendly. However, the performance of the Enduro brings out the true nature of the bike as you go off-road, it can handle rough roads and steep hills with ease. The Dunlop tyre does a really good job of maintaining traction on fast off-road corners and the power delivered by the engine lets you have fun in the dirt.
Lemoto LRF 250 Specification
Model : ZS177MM
Design Type : Single cylinder,4-stroke,whith Balance Shaft SOHC 4- VALVE 249.6 ml
Timing System : SOHC 4- VALVE
Displacement : 249.6 cc
Bore & Stroke : 77 mm x 53.6 mm
Compression Ratio : 11.6:1
Power Max : 19kw/9000 Rpm (29Hp)
Torque Max : 23N.m/7000 Rpm
Idle Speed : 1500+ 100 Rpm
Starting Type : Electric & Kick Start
Fuel : 91 octane Rating or Higher (Required)
Oil : 15w40 (Synthetic Recommended)
Ignition Type : Contactless DC CDI Ignition
Spark Plug : Denso U22E
Cooling System : Liquid Cooled
Carburetor : TK 34 mm with Accelerator Pump
Clutch : Wet, Multi-Disc, Manual
Chain : KMC 520
Transmission : Constant Mesh, 6 Speed. Claw Actuated
Lemoto LRF 250 Price in Nepal
The Lemoto LRF 250 is available in both Enduro and Motard version and is priced at Rs 6,20,000 in the Nepali market.