Apple Macbook Air Price in Nepal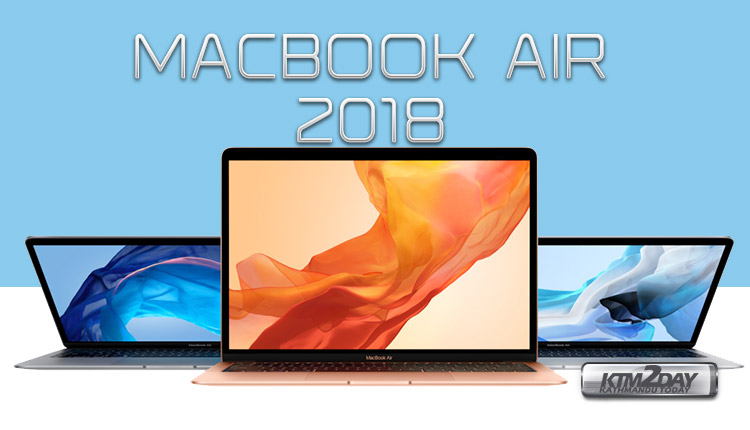 The new MacBook Air lives up to most of the standards set by its predecessor. It is highly capable machine that will handle the majority of what most people need to get done. It's not an exciting or ground-breaking computer but it is the new workhorse for all those who don't need serious graphical or processing performance but must use a Mac.
However, since the last version of the MacBook Air launched in 2015, competition in the sub-£1,300 premium laptop category has increased dramatically. With strong options from Dell, Microsoft and many others that are often cheaper and more powerful than the new MacBook Air, if you aren't tied into MacOS there are arguably better options.
For those Apple buyers who have been lost in the gap between the tiny 12in MacBook and the costly 13in MacBook Pro with Touch Bar, the new MacBook Air delivers.
The MacBook Air has a relatively unusual mix of hardware for 2018. It only has one choice of processor, an eighth-generation Intel Core i5 processor, but it isn't the same quad-core U-series processor available in the 13in MacBook Pro with Touch Bar, instead it is a dual-core Y-series chip.
The 2018 MacBook Air has recently arrived in Nepal and is available to purchase at OlizStore.

acer
hp
Lenovo
MSI
Dell
Fujitsu
ASUS
Macbook Pro
Macbook Air
Gaming Laptops
Apple Macbook Air 2018 Price in Nepal
1

Apple MacBook Air 13.3″ 128GB (Mid 2017, Silver)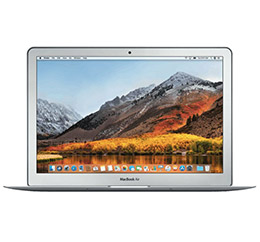 1.8 GHz Intel Core i5 Dual-Core
8GB of 1600 MHz LPDDR3 RAM | 128GB SSD
Integrated Intel HD Graphics 6000
13.3″ 1440 x 900 Glossy Display
802.11ac Wi-Fi | Bluetooth 4.0
Thunderbolt 2 | USB 3.0
720p FaceTime HD Camera | SDXC Card Slot
Stereo Speakers | Dual Built-In Mics
Slim, Lightweight Design
macOS High Sierra
Rs. 1,27,000
2

Apple MacBook Air 13.3″ 256GB (Mid 2017, Silver)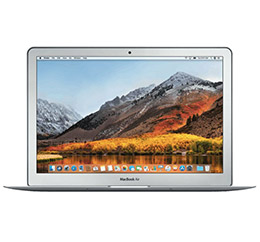 1.8 GHz Intel Core i5 Dual-Core
8GB of 1600 MHz LPDDR3 RAM | 256GB SSD
Integrated Intel HD Graphics 6000
13.3″ 1440 x 900 Glossy Display
802.11ac Wi-Fi | Bluetooth 4.0
Thunderbolt 2 | USB 3.0
720p FaceTime HD Camera | SDXC Card Slot
Stereo Speakers | Dual Built-In Mics
Slim, Lightweight Design
macOS High Sierra
Rs. 1,55,000
3

Apple 13.3″ MacBook Air with Retina Display 128GB Space Gray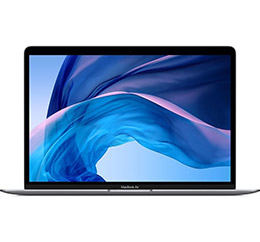 -1.6 GHz Intel Core i5 Dual-Core
-8GB of Onboard RAM | 128GB SSD
-13.3″ 2560 x 1600 Retina IPS Display
-Integrated Intel UHD Graphics 617
-Thunderbolt 3 | 3.5mm Headphone Jack
-Wi-Fi 5 (802.11ac) | Bluetooth 4.2
-Integrated Touch ID Sensor
-LED-Backlit Keyboard
-Force Touch Trackpad
-macOS Mojave
-Rs.1,68,000
4

Apple 13.3″ MacBook Air with Retina Display 128GB Silver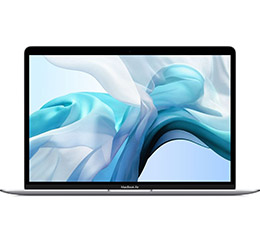 -1.6 GHz Intel Core i5 Dual-Core
-8GB of Onboard RAM | 128GB SSD
-13.3″ 2560 x 1600 Retina IPS Display
-Integrated Intel UHD Graphics 617
-Thunderbolt 3 | 3.5mm Headphone Jack
-Wi-Fi 5 (802.11ac) | Bluetooth 4.2
-Integrated Touch ID Sensor
-LED-Backlit Keyboard
-Force Touch Trackpad
-macOS Mojave
-Rs.1,68,000
5

Apple 13.3″ MacBook Air with Retina Display 128GB Gold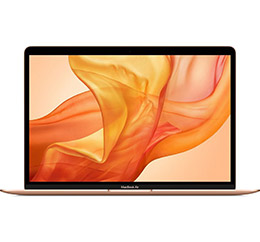 -1.6 GHz Intel Core i5 Dual-Core
-8GB of Onboard RAM | 128GB SSD
-13.3″ 2560 x 1600 Retina IPS Display
-Integrated Intel UHD Graphics 617
-Thunderbolt 3 | 3.5mm Headphone Jack
-Wi-Fi 5 (802.11ac) | Bluetooth 4.2
-Integrated Touch ID Sensor
-LED-Backlit Keyboard
-Force Touch Trackpad
-macOS Mojave
-Rs.1,68,000
6

Apple 13.3″ MacBook Air with Retina Display 256GB Space Gray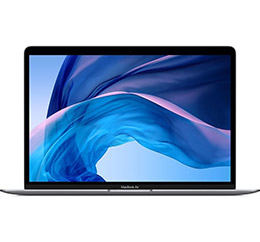 -1.6 GHz Intel Core i5 Dual-Core
-8GB of Onboard RAM
-13.3″ 2560 x 1600 Retina IPS Display
-Integrated Intel UHD Graphics 617
-Thunderbolt 3 | 3.5mm Headphone Jack
-Wi-Fi 5 (802.11ac) | Bluetooth 4.2
-Integrated Touch ID Sensor
-LED-Backlit Keyboard
-Force Touch Trackpad
-macOS Mojave
-Rs.1,96,000
7

Apple 13.3″ MacBook Air with Retina Display 256GB Silver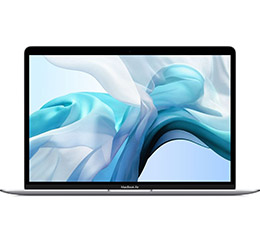 -1.6 GHz Intel Core i5 Dual-Core
-8GB of Onboard RAM
-13.3″ 2560 x 1600 Retina IPS Display
-Integrated Intel UHD Graphics 617
-Thunderbolt 3 | 3.5mm Headphone Jack
-Wi-Fi 5 (802.11ac) | Bluetooth 4.2
-Integrated Touch ID Sensor
-LED-Backlit Keyboard
-Force Touch Trackpad
-macOS Mojave
-Rs.1,96,000
8

Apple 13.3″ MacBook Air with Retina Display 256GB Gold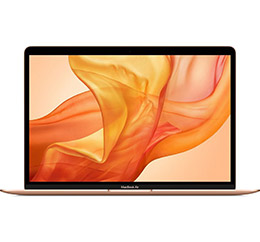 -1.6 GHz Intel Core i5 Dual-Core
-8GB of Onboard RAM
-13.3″ 2560 x 1600 Retina IPS Display
-Integrated Intel UHD Graphics 617
-Thunderbolt 3 | 3.5mm Headphone Jack
-Wi-Fi 5 (802.11ac) | Bluetooth 4.2
-Integrated Touch ID Sensor
-LED-Backlit Keyboard
-Force Touch Trackpad
-macOS Mojave
-Rs.1,96,000

acer
hp
Lenovo
MSI
Dell
Fujitsu
ASUS
Macbook Pro
Macbook Air
Gaming Laptops