Asus Laptops Price in Nepal – Everyday Computing, Business, Gaming Laptops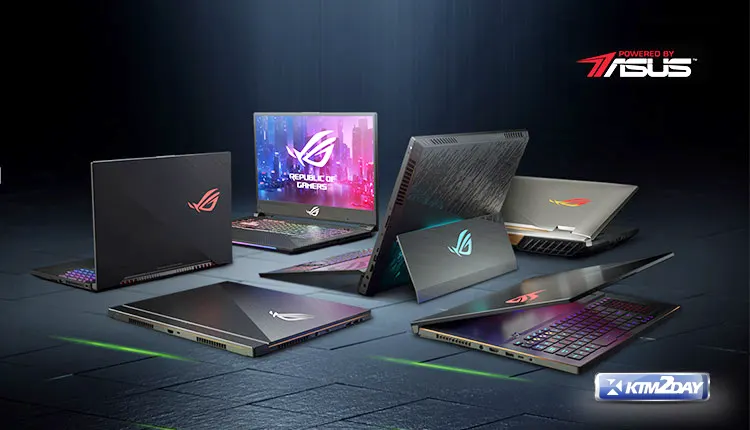 Asus is a well known brand when it comes to laptops and is highly graded for their hardware and build quality.
The build quality of Asus, truly deserves to be classed close behind to what Apple makes, because Asus puts some premium quality material into their laptops compared to other brands and they just don't stuff in plain molds of plastic.
Asus is incorporating new technologies into its laptops faster than others brands like Dell and Lenovo. It also has the most pleasing and consumer needs-aware laptop line.
Below we have listed all the models available in Nepali market with their respective price and specification which will save you some time in deciding the right laptop.
Nagmani International is the authorized re-seller of Asus Laptops in domestic market.
For more info : http://nagmani.com.np/
Contact : 01-4247855; 01-4247888; 01-4247850
Asus Laptops Price in Nepal
ASUS GL502VS
Intel® Core™ i7 7th Gen Processor
16 GB SDRAM, 1TB + 256 SSD
NVIDIA GeForce GTX 1070 , with 8GB VRAM
HD Web Camera, Wifi, Bluetooth
15.6″ (16:9) LED backlit FHD
Genuine Windows 10
USB 3.1
2.336 kg with Battery
2-year limited International hardware warranty.
Rs 275,000
---
ASUS VivoBook S410UN (i5)
Slim Vivobook
Processor : Intel® Core™ i5 8th Gen
Memory : 8GB RAM, 1 TB HDD
Display : 14" Full HD Screen
Graphics : Nvidia 4GB Graphics
Battery : 4 hrs Polymer Battery
Meterial : Metal Body
Backlit Keyboard, Finger Print
Color : Gold, Gray
OS : Genuine Windows 10
BAGPACK, MOUSE
2-year limited International hardware warranty
Rs 111,250

---
Asus FX553VD
Intel® Core™ i5 7300HQ Processor
8GB RAM, 1 TB HDD + 128 SSD
Intel® HM175 Express Chipset
NVIDIA GeForce GTX 1050 4GB
FHD Anti-Glare (1920×1080) LED backlit 15.6″ Panel 60Hz
Weight : 2.5 kg
Gaming Backpack, Gaming Headphone, Gaming Mouse
2 Year International Warranty
Rs 131,250

---
ASUS VivoBook Flip 14 TP410UA (I5)
Processor : 8th Gen Intel® Core™ i5
Memory : 8GB & up to 16 GB SDRAM
Display : (16:9) Glare 60Hz (1920×1080) FHD
Fingerprint
Storage : 1TB HDD
WebCam : VGA Web Camera *1
OS : Genuine windows 10
Battery : 8hrs 3 Cells
Weight : 1.6 kg
BAGPACK, MOUSE
2 Year International Warranty
Rs 106,250

---
ASUS VivoBook X442UA
Processor : Intel® Core™ i5 8250U
Memory : 4 GB DDR4 2400MHz SDRAM Onboard
Storage : 1TB HDD ( 7200 RPM )
Graphic : Integrated Intel HD Graphics 620
Display : 14.0″ (16:9) LED backlit HD (1366×768) 60Hz Glare Panel
WebCam : VGA Web Camera
Battery : 4 Hrs Polymer Battery
Weight : 1.8 kg with Battery
OS: Genuine Windows 10
2 Years International Warranty
Rs 76,250

---
ASUS VivoBook S15 S510UN (i7)
Super Slim
Processor : Intel® Core™ i7 8th Gen
Memory : 8 GB, Storage : 1T B, 128 GB SSD
Display : 15.6″ (16:9) LED backlit FHD (1920×1080) 60Hz Anti-Glare
Grapjics : NVIDIA GeForce MX150 , with 2GB GDDR5 VRAM
Backlit Keyboard, Finger Print
WebCam : VGA Web Camera
Battery : 4 hrs Polymer Battery
Weight: 1.7 kg with Battery
OS : Genuine Windows 10
2 Years International warranty
Rs 137,500

---
ASUS VivoBook S15 S510UQ (i5)
Super Slim
Processor : Intel® Core™ i5 8th Gen
Memory : 8GB, Storage : 1TB
Display : 15.6″ (16:9) LED backlit FHD (1920×1080) 60Hz Anti-Glare
Graphics : NVIDIA GeForce with 2GB GDDR5 VRAM
Backlit Keyboard, Finger Print
WebCam : VGA Web Camera
Battery : 4 hrs Polymer Battery
Weight: 1.7 kg with Battery
OS : Genuine Windows 10
2 Years International warranty
Rs 103,750

---
ASUS VivoBook S410UA

Slim Vivobook
 Processor : Intel® Core™ i3 7th Gen
Memory : 4GB RAM, 1 TB HDD
Display : 14" Full HD Screen
Graphics : Intel integrated graphics
Battery : 4 hrs Polymer Battery
Meterial : Metal Body
Backlit Keyboard, Finger Print
Color : Gold Color
OS : Genuine Windows 10
2-year limited International hardware warranty
Rs 75,000
---
ASUS ZenBook UX430UA
Processor : Intel® Core™ i5-8250U
Memory : 8GB RAM
Stroage : 256 GB SSD
Graphics : Integrated Intel UHD Graphics
Display : 14″ NanoEdge anti-glare LED-backlit with 178 wide-view technology
Battery : 10Hrs Polymer Battery
Backlit KB, Finger Print
OS : Genuine Windows 10
2 Years International Warranty
Rs 122,500
---
ASUS ZenBook UX430UN (i5)
Processor : Intel® Core™ i5-8250U
Memory : 8GB RAM
Storage : 256 GB SSD
Graphics : 2GB NVIDIA® GeForce® MX150
Display : 14″ NanoEdge anti-glare LED-backlit with 178 wide-view technology
Battery : 10Hrs Polymer Battery
Backlit KB, Finger Print
OS : Genuine Windows 10
2 Years International Warranty
Rs 121,500
---
ASUS ZenBook UX430UN (i7)
Processor :  Intel® Core™ i7-8550U
Memory : 8GB RAM
Storage : 256 GB SSD
Graphics : 2GB NVIDIA® GeForce® MX150 
Display : 14″ NanoEdge anti-glare LED-backlit with 178 wide-view technology
Battery : 10Hrs Polymer Battery
Backlit KB, Finger Print
OS : Genuine Windows 10
2 Years International Warranty
Rs 139,500
---
ASUS ZenBook Flip 14 UX461UA i5
Processor : Intel® Core™ i5 8250U 
Memory : 8 GB LPDDR3 2133MHz SDRAM
Storage : 256 SSD
Display : 14.0″ (16:9) LED backlit FHD (1920×1080) Touchscreen with 72% NTSC with 178 wide-viewing angle display
Finger Print
WebCam : HD Web Camera
Graphic : 2GB Nvidia Geforce
Battery : 4 hrs Polymer Battery
?OS: Genuine Windows 10
Weight : 1.4 kg
2 Year International Warranty
Rs 147,500

---
ASUS FLIP E203NAH
FLIP E202NAH
Processor : Intel® Celeron® Dual-Core 7th Gen
Memory : Onboard Memory 2 GB
Display :(1366×768) (16:9) LED HD, NTSC 11.6″, 360 degree Flip
Storage : 1TB SATA HDD
WebCam : VGA Web Camera
Battery : Polymer 3 Cells Battery, 4 hrs
Weight : 1.2 kg
OS : Windows 10
2 Year International Warranty
Rs 55,000

---
ASUS VivoBook 14 X442UA (i3)
ASUS VivoBook 14 X442UA
Processor : Intel® Core™ i3 7100U 
Memory : 4 GB Onboard Memory DDR4 2133MHz SDRAM
Display : Panel (16:9) with 45% NTSC LED backlit (1366×768) 
Graphic : Integrated Intel HD Graphics 620
Storage : 1TB HDD
WebCam : VGA Web Camera *1
Battery : 4 hrs, Polymer 3 Cells Battery
OS : Windows 10
2 Year International Warranty
Rs 61,250

---
Asus VivoBook X510UA (i3)
ASUS VivoBook  X510UA
Processor : Intel® Core™ i3 7100U 
Memory : 4 GB Onboard Memory up to 16 GB SDRAM
Display : 15.6″ (16:9) LED backlit FHD (1920×1080) 
Graphic :Integrated Intel HD Graphics
Storage : 1TB SATA HDD
WebCam : VGA Web Camera *1
Battery : 4 hrs, Polymer 3 Cells Battery
Weight : 1.5 kg ~ 1.7 kg with Battery
Color  :  Red
OS : Genuine Windows 10
2 Year International Warranty
Rs 70,000
---
Asus Vivobook S510UA (i3)
ASUS VivoBook  X510UA
Processor : Intel® Core™ i3 7100U 
Memory : 4 GB Onboard Memory up to 16 GB SDRAM
Storage : 1TB SATA HDD
Display : 15.6″ (16:9) LED backlit FHD (1920×1080) 
Graphic :Integrated Intel HD Graphics
WebCam : VGA Web Camera *1
Battery : 4 hrs, Polymer 3 Cells Battery
Weight : 1.5 kg ~ 1.7 kg with Battery
OS :  Genuine Windows 10
Color  :  Red
2 Year International Warranty
Rs 75,000

---
Asus VivoBook X542UA (i5)
ASUS VivoBook 15 X542UA
Processor : Intel® Core™ i5 8250U
Memory : 4 GB Onboard Memory DDR4 2133MHz SDRAM
Storage : 1TB HDD
Display :15.6″ (16:9) LED backlit HD (1366×768)
Graphic : Integrated Intel HD Graphics 620
OS : Genuine Windows 10
Battery : 4 hrs, Polymer Battery
Weight : 2.30 kg with Battery
Color : Gray
 2 Year International Warranty
Rs 80,625

---
Asus P2440UA
ASUSPRO P2440UA
Processor : Intel® Core™ i5 7200U
Memory : 4 GB up to 20 GB SDRAM
Storage : 500 GB HDD ( 72R )
Display : (1920×1080) FHD LED backlit 14.0"
Graphic : Integrated Intel HD Graphics 620
OS : Windows 10
Battery : 8 hrs, Polymer 6 Cells Battery
Weight : with Battery 2.09 kg 
BAGPACK, MOUSE
2 Year International Warranty
Rs 82,500
---
VivoBook 15 X542UF (i5)
ASUS VivoBook 15 X542UF
Processor : Intel® Core™ i5 8250U
Memory : 4 GB, up to 16 GB SDRAM
Display : 15.6″ (16:9) LED backlit FHD (1920×1080)
Graphic :NVIDIA GeForce MX150 , with 2 GB GDDR5 VRAM
Storage : 1TB SATA HDD
WebCam : VGA Web Camera *1
Battery : 4 hrs, Polymer 3 Cells Battery
Weight : 2.30 kg with Battery
Color  :  Gray
2 Year International Warranty
Rs 93,750
---
ASUS S510UN (i5)
ASUS VivoBook S15 S510UN
Processor : Intel® Core™ i5 8250U
Memory : 8 GB, up to 16 GB SDRAM
Storage : 1TB SATA HDD
Display : 15.6″ (16:9) LED backlit FHD (1920×1080)
Graphic :NVIDIA GeForce MX150 , with 2 GB GDDR5 VRAM
OS : Genuine Windows 10
WebCam : VGA Web Camera *1
Battery : 4 hrs, Polymer 3 Cells Battery
Weight : 2.30 kg with Battery
Color  :  Gray
 2 Year International Warranty
Rs 111,250
---
ZenBook UX410UA (i5)
ASUS ZenBook UX410UA
Processor : Intel® Core™ i5 8250U
Memory : 8 GB up to 16 GB SDRAM
Storage : 1TB HDD
Display : 14.0″ (16:9) LED backlit HD (1920×1080) 60Hz Anti-Glare 
Graphic : Integrated Intel UHD Graphics 620
Backlit Keyboard 
OS : Genuine Windows 10
Battery : 4 hrs, Polymer 3 Cells Battery
Weight : 1.7 kg with Battery
Color : Gray Metal
 2 Year International Warranty
Rs 107,500
---
ASUS X542UN
ASUS VivoBook 15 X542UN
Processor : Intel® Core™ i7 8550U
Memory : 8 GB up to 16 GB SDRAM
Storage : 1TB HDD
Display : 15.6″ (16:9) LED backlit FHD (1920×1080) 60Hz 
Graphic : NVIDIA GeForce MX150 , with 4GB GDDR5 VRAM 
OS : Genuine Windows 10
Battery : 4 hrs, Polymer 3 Cells Battery
Weight : 2.30 kg with Battery
Color : Gray
BAGPACK, MOUSE
 2 Year International Warranty
Rs 120,000

---
ASUS X441MA
Processor :  Intel® Celeron® 8th Gen
Memory : 4 GB
Storage :  500GB 5400RPM SATA HDD
Display : 14.0″ (16:9) LED backlit HD (1366×768) 60Hz
Battery : 3 Cells 4 hrs
Weight : 1.7 kg with Battery
2 Year International Warranty
Rs 42,666
---
ASUS VivoBook Flip TP203NA
Processor : 7th Gen Intel® Celeron®  Dual-Core
Memory : Onboard Memory 4 GB Onboard Memory
Storage : 1TB  HDD
Display : 60Hz with 50% NTSC Touchscreen 11.6″ HD with 178deg wide-viewing angle display
Graphic : Integrated Intel HD Graphics
Battery : 8hrs Backup
2 Years International Warranty
Rs 55,000
---
ASUS X507LA
Processor : 5th Intel® Core™ i3 5005U
Memory : 4GB,  Storage : 1TB HDD + SSD Slot
Display : 14.0″ (16:9) LED backlit HD (1366×768) 60Hz Anti-Glare
Finger Print Sensor
Fast Charging
8.1mm Nano Edge Slim bezel
Battery : 3 Cells 6hrs Backup
Weight : 1.68 kg with Battery
2 Year International Warranty
Rs 54,375
---
ASUS VivoBook 15 X542UN (i5)
Processor : Intel® Core™ i5 8250U
Memory : 4 GB, Storage : 1TB
Display : 15.6″ (16:9) LED backlit FHD (1920×1080) 60Hz Anti-Glare Panel with 45% NTSC
Graphic : NVIDIA GeForce MX150 , with 4GB GDDR5 VRAM
Battery : 4 hrs Backup
Weight  2.30 kg with Battery
2 Year International Warranty
Rs 107,500
---
ASUS ROG GL503GE-GAMING-SCAR-EDITION-15.6 INCH
Processor : Intel® Core™ i7 8750HQ
Mmory : 16GB DDR4 2666MHz SDRAM, 2 x SO-DIMM socket
Graphics : Nvidia GTX 1050 TI 4G
 Display : 15.6″ (16:9) FHD (1920×1080) 144Hz Anti-Glare IPS-level Panel 72% NTSC with G-Sync
Storage : 1TB Hybrid SSHD ( Firecuda HDD with 8GB SSD ) with 256GB SATA III SSD
OS : Genuine Windows
Backlit KB, Gaming Mouse & Headphone, Bagpack
Weight : 2.6kg
2 Year International Warranty
Rs 208,750
---
ASUS ROG Strix SCAR Edition 17.3in
Processor : Intel® Core™ i7 8750HQ
Mmory :  16GB DDR4 2666MHz SDRAM, 2 x SO-DIMM socket
Graphics : Nvidia GTX 1050 TI 4G
 Display : 17.3″ (16:9) FHD (1920×1080) 144Hz Anti-Glare IPS-level Panel 72% NTSC with G-Sync
Storage : 1TB Hybrid SSHD ( Firecuda HDD with 8GB SSD ) with 256GB SATA III SSD
OS : Genuine Windows
Backlit KB, Gaming Mouse & Headphone, Bagpack
Weight : 3.05 with Battery
2 Year International Warranty
Rs 275,000
---
ASUS ROG G703GI
Processor : Intel® Core™ i9-8950HK
Graphics : GeForce GTX 1080 8GB
Memory :  DDR4 32GB
Storage : 2TB Hybrid SSHD ( Firecuda HDD with 8GB SSD ) with 256GB Nvme SSD
17.3″ FHD (1920*1080), matte, 144Hz, WV, G-SYNC
OS : Genuine Windows
Backlit KB, Gaming Mouse & Headphone, Bagpack
Weight : 4.7kg with Battery
2 Year International Warranty
Rs 531,250

---
ASUS ZenBook 14 UX433FN (i5)
Processor : Intel® Core™ i5-8265U processor
RAM : 8 GB  2133MHz LPDDR3 onboard
Graphics : 2GB NVIDIA® GeForce® MX150
Storage : 512GB PCIe® SSD
Camera : 3D IR HD camera
BACKLIT KEYBOARD
Battery and Power : Up to 13 hours battery life
Operating System : Windows 10
2 Year Int'l warranty
Rs 160,000
Asus Laptops Price in Nepal
| Image | Specifications | Price NRs. |
| --- | --- | --- |
| | Asus VivoBook E410MA Celeron / 4GB RAM / 256GB SSD / 14" HD / Windows Genuine | 49000 |
| | Asus VivoBook E510 Celeron 10th Gen / 4GB RAM / 256GB SSD / 15.6" Display | 49400 |
| | Asus VivoBook 14 X415JA i3 10th Gen / 4GB RAM/ 256GB SSD / 14" FHD display | 63000 |
| | Asus VivoBook 14 X415EA i3 11th Gen / 4GB RAM / 256GB SSD / 14" FHD display | 67000 |
| | Asus VivoBook 14 X413EA i3 11th Gen / 4GB RAM / 256GB SSD / 14" FHD display / Metal body / Long battery | 67000 |
| | Asus VivoBook Flip 14 TM420IA Ryzen 3 4300U / 4GB RAM/ 256GB SSD / 14" FHD 360 Touch display / Stylus support | 81000 |
| | Asus VivoBook 15 X515JA i5 10th Gen / 8GB RAM / 256GB SSD / 15.6" FHD display / Backlit keyboard | 83000 |
| | ASUS VIVOBOOK X515EA i5 11TH GEN/ 8GB/ 256GB/ 15.6" FHD/ LONG BATTERY | 90000 |
| | Asus VivoBook 15 M513IA Ryzen 5 4500U / 8GB RAM/ 256GB SSD / 15.6" FHD display | 93000 |
| | Asus VivoBook 14 X413EA i5 11th Gen / 8GB / 256GB / 14" FHD display / Metal Body / Long Battery | 95000 |
| | Asus VivoBook 15 K513EA i5 11th Gen / 8GB RAM / 512GB SSD / 15.6" FHD display | 105000 |
| | ASUS VIVOBOOK X515JA i7 10TH GEN/ 8GB RAM/ 512GB SSD / BACKLIGHT KEYBOARD 14" FHD | 115000 |
| | Asus ZenBook 14 UM425IA Ryzen 5 4500U / 8GB RAM / 512GB SSD / 14'' FHD display / Magic NumPad | 116000 |
| | Asus VivoBook 14 M413IA Ryzen 7 4700U / 8GB RAM / 512GB SSD / 14" FHD display | 116000 |
| | Asus VivoBook Flip TM420UA RYZEN 5500U / 8GB RAM / 512GB SSD / 14" FHD 360 Touch display / Stylus support | 116000 |
| | Asus VivoBook Flip 14 TP470EA i5 11th Gen 1135G7 / 8GB RAM / 512GB SSD / 14" FHD 360 Touch display / Stylus support | 120000 |
| | Asus VivoBook 15 X515JP i7 10th Gen / NVIDIA MX330 / 8GB RAM/ 512GB SSD / 15.6" FHD display | 122000 |
| | ASUS ZenBook 13 UX325EA I5 11 GEN / 8GB RAM / 512GB SSD / Magic NumPad / 13.3" FHD display | 127000 |
| | Asus ZenBook 14 UX425EA I5 11 Gen / 8GB RAM / 512GB SSD / Magic NumPad / 14" FHD display | 127000 |
| | Asus TUF F15 Gaming Laptop i5 10Th Gen / GTX 1650/ 8GB RAM / 512GB SSD / 15.6" FHD 144Hz display | 128000 |
| | ASUS VIVOBOOK K403FA i7 10TH GEN/ 16GB RAM/ 512GB SSD/ 24 HOURS BATTERY/ 14" FHD | 131000 |
| | Asus VivoBook Flip 14 TP470EA i7 11th Gen 1135G7 / 8GB RAM / 512GB SSD / 14" FHD 360 Touch display / Stylus support | 138000 |
| | Asus TUF F15 Gaming Laptop i5 10Th Gen / GTX 1650Ti / 16GB RAM / 512GB SSD / 15.6" FHD 144Hz display | 138000 |
| | Asus VivoBook S15 S533EA i7 11th Gen / 16GB RAM / 512GB SSD / Iris Xe graphics / 15.6" FHD Display | 141000 |
| | Asus ZenBook 14 UM425IA Ryzen 7 / Radeon Graphics / 16GB RAM / 512GB SSD / 14'' FHD display / Magic NumPad | 142000 |
| | Asus ROG Strix G15 G512LI i5 10TH GEN / GTX 1650TI / 15.6" FHD 144Hz / 16GB RAM/ 512GB SSD | 143000 |
| | Asus ZenBook Flip 13 UX363EA i5 11th Gen / 16GB RAM / 512GB SSD / Magic NumPad / Stylus / 13.3" FHD 360-degree Touchscreen display | 146000 |
| | Asus VivoBook 15 K513EQ i7 11th Gen / NVIDIA MX350 / 16GB RAM / 1TB SSD / 15.6" FHD display | 149000 |
| | Asus TUF A15 FA506II Gaming Laptop Ryzen 7 4800H/ 16GB RAM/ 512GB SSD/ GTX 1650Ti/ 15.6" FHD 144Hz | 152000 |
| | Asus ZenBook 14 UX435EG i5 11th Gen / MX450 / 8GB RAM / 512GB SSD / ScreenPad / 14" FHD Touch | 153000 |
| | Asus ZenBook 14 UX425EA I7 11th Gen / 16GB RAM / 512GB SSD / Magic NumPad / 13.3" FHD display | 154000 |
| | Asus ZenBook 13 UX325EA I7 11th Gen / 16GB RAM / 512GB SSD / Magic NumPad / 13.3" FHD display | 154000 |
| | Asus TUF F15 Gaming Laptop i7 10Th Gen 8 Core / GTX 1650ti / 16GB RAM / 512GB SSD / 15.6" FHD 144Hz display | 157000 |
| | Asus ROG Strix G15 2021 G513QC Ryzen 5 5600H / RTX 3050 / 16GB RAM / 512GB SSD / 15.6" FHD 144Hz display | 158000 |
| | Asus TUF A15 FA506IU Gaming Laptop Ryzen 7 4800H/ 16GB RAM/ 512GB SSD/ 90WHR BATTERY/ GTX 1660Ti/ 15.6" FHD 144Hz | 161000 |
| | Asus TUF A17 FA706IU Gaming Laptop Ryzen 7 4800H/ 8GB RAM/ 512GB SSD/ GTX 1660Ti/ 17.3" FHD 144Hz | 167000 |
| | Asus ROG Strix G15 G512LI i7 10TH GEN 8 CORE / GTX 1650TI / 15.6" FHD 144Hz / 16GB RAM/ 512GB SSD | 168800 |
| | Asus TUF F15 2021 FX506HE i5 11Th Gen / RTX 3050TI / 16GB RAM / 512GB SSD / 15.6" FHD 144Hz display | 172000 |
| | Asus ZenBook Flip 13 UX363EA i7 11th Gen / 16GB RAM / 512GB SSD / 13.3" OLED FHD Touch display / Magic NumPad / Stylus | 175000 |
| | Asus ZenBook 14 UX435EG i7 11th Gen / MX450 / 16GB RAM / 512GB SSD / ScreenPad / 14" FHD Touch display | 176000 |
| | Asus TUF Dash F15 FX516PM i5 11Th Gen / RTX 3060 / 8GB RAM / 512GB SSD / 15.6" FHD 144Hz display | 183000 |
| | Asus ROG Strix G15 G512LU i7 10Th Gen / 16GB RAM/ 1TB SSD / GTX 1660TI / 15.6" FHD 240Hz display | 186000 |
| | Asus TUF Dash F15 FX516PE i7 11th Gen / RTX 3050ti / 16GB RAM / 1TB SSD / 15.6" FHD 144Hz display | 196000 |
| | Asus Zephyrus G14 GA401IU Ryzen 7 4800HS / GTX 1660Ti / 16GB RAM / 512GB SSD / 14" FHD 120Hz display / Anime Matrix | 200000 |
| | Asus Zephyrus G14 2021 GA401QE Ryzen 7 5800HS / RTX 3050ti / 16GB RAM / 1TB SSD / 14" FHD 144Hz display / Animie Matrix / External Webcam | 205000 |
| | Asus TUF Dash F15 FX516PM i7 11th Gen / RTX 3060 / 16GB RAM / 512GB SSD / 15.6" FHD 144Hz display | 205000 |
| | Asus ROG Strix G15 2021 G513QE Ryzen 7 5800H / RTX 3050Ti / 16GB RAM / 512GB SSD / 15.6" FHD 144Hz display | 210000 |
| | Asus TUF A15 2021 FA506QM Ryzen 7 5800H / RTX 3060 / 16GB RAM / 512GB SSD / 15.6" FHD 144Hz display | 211000 |
| | Asus Zephyrus G14 GA401IV Ryzen 9 4900HS / RTX 2060 / 16GB RAM / 1TB SSD / 14" FHD 120Hz Display / Anime Matrix | 220000 |
| | ASUS ZENBOOK DUO UX482EG i7 11TH GEN/ 16GB RAM/ 1TB SSD/ MX450 / STYLUS/ 14" FHD Touchscreen + 12.6" FHD TOUCH | 228000 |
| | Asus Zephyrus G14 2021 GA401QM Ryzen 9 5900HS / RTX 3060 / 16GB RAM / 512GB SSD / 14" FHD 144Hz display | 237000 |
| | Asus ROG Strix Scar 15 2020 G532LV i7 10th Gen / RTX 2060 / 16GB RAM / 1TB SSD / Magic NumPad / 15.6" FHD 240Hz display | 244000 |
| | Asus Zephyrus G14 2021 GA401QM Ryzen 9 5900HS / RTX 3060 / 16GB RAM / 1TB SSD / 14" FHD 144Hz display | 247000 |
| | Asus TUF Dash F15 FX516PR i7 11th Gen / RTX 3070 / 16GB RAM / 1TB SSD / 15.6" FHD 240Hz display | 278000 |
| | Asus ROG Strix Scar 15 2021 G533QM Ryzen 9 5900HX / RTX 3060 / 16GB RAM / 1TB SSD / 15.6" FHD 300Hz Display | 288000 |
| | Asus ROG Zephyrus M16 GU603HM i9 11th Gen / RTX 3060 / 32GB RAM / 1TB SSD / 16" WQXGA Display 144Hz display | 339000 |
| | Asus ROG Strix Scar 15 2021 G533QR Ryzen 9 5900HX / RTX 3070 / 32GB RAM / 1TB SSD / 15.6" FHD 300Hz Display | 361000 |
| | Asus ROG Zephyrus Duo 15 SE GX551QM AMD Ryzen 7 5800H / RTX 3060 / 16GB RAM / 512GB SSD / 15.6" FHD 120Hz + 14" ScreenPad Plus | 372000 |
| | Asus ROG Strix Scar 15 2021 G533QS - Ryzen 9 5900HX / RTX 3080 / 16GB RAM / 1TB SSD / 15.6" FHD 300Hz Display | 410000 |
| | Asus ZenBook Pro Duo UX582LR i9 10th Gen / 32GB RAM / 1TB SSD / RTX 3070 / 15.6" 4K OLED Touch display + 14" 4K OLED ScreenPad Plus | 488000 |
| | Asus ROG Zephyrus Duo 15 SE GX551 AMD Ryzen 9 5900HX / RTX 3080 / 32GB RAM / 1TB SSD / 15.6" 4K OLED Touch + 14" 4K touch / Stylus support | 494000 |
Asus Laptops Price in Nepal - Updated on January 2023