Buddha Air revises airfare in domestic route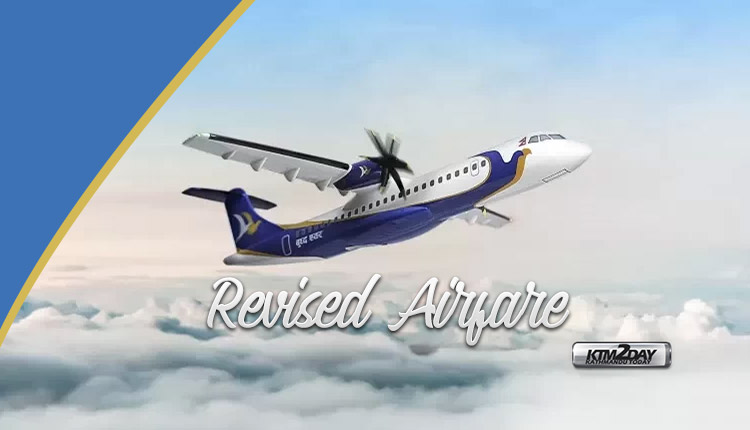 Buddha Air, a leading private sector airline, has reduced fuel charges after the government removed Rs 10 infrastructure tax on aviation fuel through the budget.
The company said in a statement that the fares have been adjusted to its various destinations as the price of aviation fuel has come down.
The company has stated that according to the air travel distance airfares has been reduced from a minimum of Rs 225 to Rs 1,105.
Meanwhile, Buddha Air, which has been planning to market major tourist destinations from Kathmandu to Pokhara and around Chitwan since June 1, further stated that all necessary preparations have been completed for the flight once the lockdown is over.
Buddha has made a 'safety guideline' as per the guidelines of the regulatory Nepal Civil Aviation Authority. The safety guideline specifies how to keep passengers, crew, ship clean, ramp bus, cargo, trolley, various counters and offices safe. According to the directive, Buddha will provide training to its employees from next week, the statement said.
Buddha Air's Revised Airfare in Domestic Route
Destination
Fuel charge
Difference
Previous
Current
Mountain flight
3090
2230
860
Kathmandu-Bharatpur
965
695
270
Kathmandu-Pokhara
1425
1030
395
Kathmandu-Biratnagar
2160
1560
600
Kathmandu – Janakpur
1155
835
320
Kathmandu – Simara
810
585
225
Kathmandu – Bhairahawa
1850
1335
515
Kathmandu – Dhangadhi
3975
2870
1105
Kathmandu – Nepalgunj
2930
2115
815
Kathmandu – Bhadrapur
2700
1950
750
Kathmandu – Tumlingtar
1660
1195
465
Biratnagar – Tumlingtar
965
695
270
Pokhara Mountain Flight
2825
2040
785
Pokhara – Bharatpur
1000
720
280
Pokhara – Bhairahawa
1160
835
325
Kathmandu – Rajbiraj
1840
1330
510
Kathmandu – Surkhet
3110
2245
865