Samsung Mobile Price in Nepal 2023 (Aug-Sept)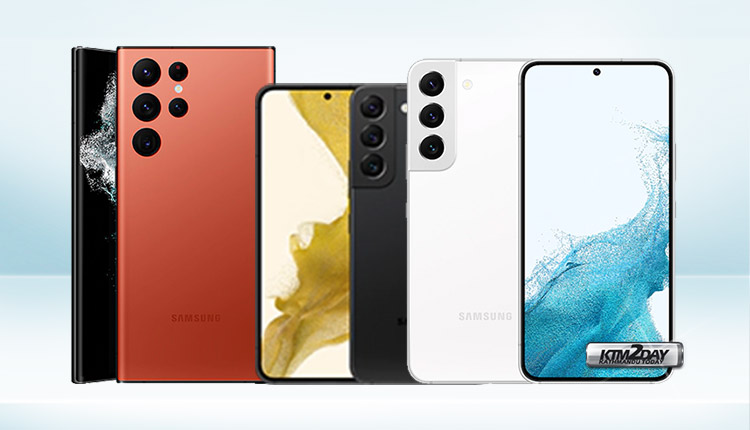 Samsung Mobile Price in Nepal 2023
Samsung Galaxy is a series of mobile devices designed, manufactured and marketed by Samsung Electronics.
Samsung has managed to become the world's largest mobile phone brand. It is also one of the most valuable and technologically advanced consumer technology brands in the world, rivaling the likes of Apple and Google.
The product line includes the Galaxy S series of flagship smartphones, the Galaxy Tab series of tablets, the Galaxy Note series of tablets and phablets with the added functionality of a stylus, and the Galaxy Gear smartwatch.
Samsung's new A Series completely replaces the previous J series in the budget and mid-range segment offering good specification and design at a better price range.
You can check out Samsung mobile features and specs on this page as well as Samsung mobile price list.

▰  Samsung Galaxy A14 5G »
☰ Specifications :
6.6-inch IPS LCD screen with FHD+ resolution
Display with drop notch 90 Hz refresh rate
Samsung Exynos 1330
6 GB of RAM
128 GB of internal storage
Expandable memory with MicroSD card
13 MP front camera
Three rear cameras:

Main lens with 50 MP sensor
Depth lens with 2 MP sensor
Macro lens with 2 MP sensor

5G, 4G connection, P2 port, dual-band Wi-Fi and Bluetooth 5.0
5,000 mAh battery with 15W charging
Android 13 running under One UI 5.0
☰ Samsung Galaxy A14 Price in Nepal – Rs. 27,999 (6GB RAM/128GB)
☰ Specifications :
6.5-inch LCD screen and HD+ resolution
60 Hz refresh rate
MediaTek Helio G35 Platform
GPU PowerVR GE8320 MP2
3 GB or 4 GB of RAM
128 GB of storage
5 MP front camera
Two rear cameras:

Main lens with 13 MP sensor
Depth lens with 2 MP sensor

Bluetooth 5.0, Wifi 2.4 Ghz
5,000 mAh battery
Android 12 with One UI Core 4.1
Dimensions: 164.2 x 75.9 x 9.1 mm
Weight: 188 grams
☰ Samsung Galaxy A04e Price in Nepal – Rs. 13,499 (3GB RAM/32GB)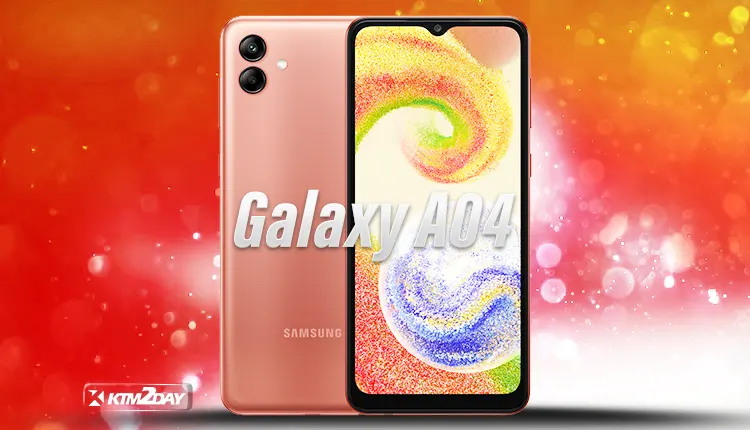 ☰ Specifications :
6.5-inch IPS LCD screen with HD+ resolution
Display with drop notch and 90 Hz rate
Mediatek Helio P35 Platform
3 GB or 4 GB of RAM
32 GB, 64 GB or 128 GB of internal storage
Expandable memory with MicroSD card
5 MP front camera
Three rear cameras:

Main lens with 50 MP sensor
Macro lens with 2 MP sensor
Depth lens with 2 MP sensor

4G dual-SIM connection, USB-C, P2, dual-band WiFi, Bluetooth 5.0 and digital reader
5,000 mAh battery
Android 12 running under one Ui 4.1 Core
☰ Samsung Galaxy A04 Price : Rs. 14,999 (3GB/32GB) Rs. 16,999 (4GB/64GB)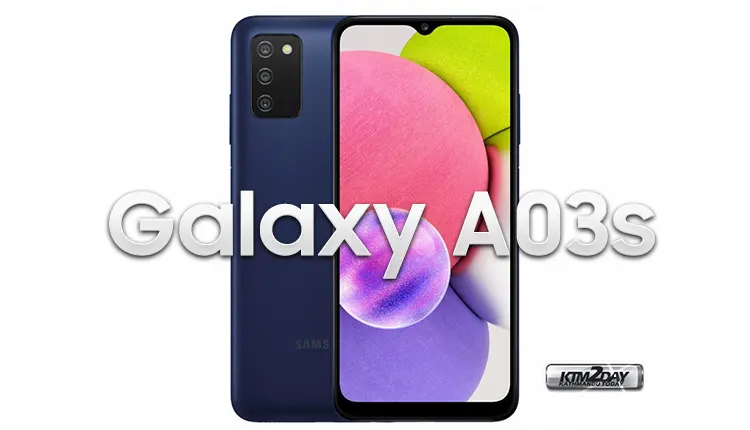 ☰ Specifications :
6.5-inch Infinity-V TFT screen with HD+ resolution
Display with drop notch
MediaTek Helio P35 Platform
3 GB or 4 GB of RAM
32 GB or 64 GB of internal storage
Expandable memory with MicroSD card
5 MP front camera
Three rear cameras:

Main lens with 13 MP sensor
Macro lens with 2 MP sensor
Depth lens with 2 MP sensor

Dual-SIM, USB-C, P2 port for headphones, Bluetooth 5.0 and side digital reader
5,000 mAh battery with 15W charging
Android 11 running under one UI Core
☰ Samsung Galaxy A03s Price : Rs. 15,999 (3/32GB) Rs. 17,999 (4/64GB)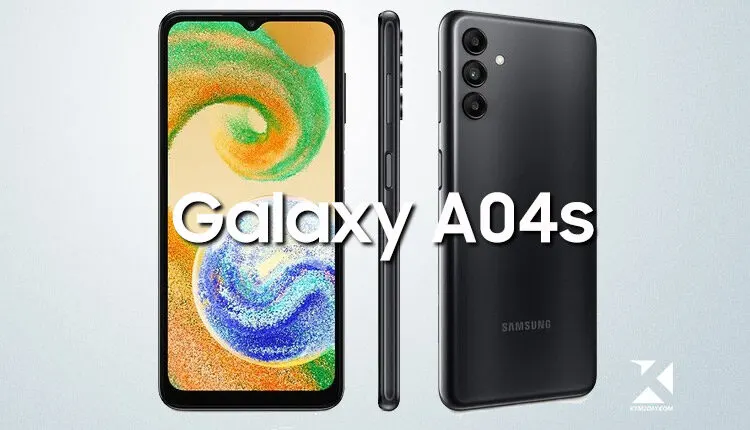 ☰ Specifications :
6.5-inch IPS LCD screen with HD+ resolution
Display with drop notch and 90 Hz rate
Exynos 850 Platform
3 GB or 4 GB of RAM
32 GB, 64 GB or 128 GB of internal storage
Expandable memory with MicroSD card
5 MP front camera
Three rear cameras:

Main lens with 50 MP sensor
Macro lens with 2 MP sensor
Depth lens with 2 MP sensor

4G dual-SIM connection, USB-C, P2, dual-band WiFi, Bluetooth 5.0 and digital reader
5,000 mAh battery
Android 12 running under one Ui 4.1 Core
☰ Samsung Galaxy A04s Price : Rs. 19,999  (4GB/64GB) Rs. 21,999  (4GB/128GB)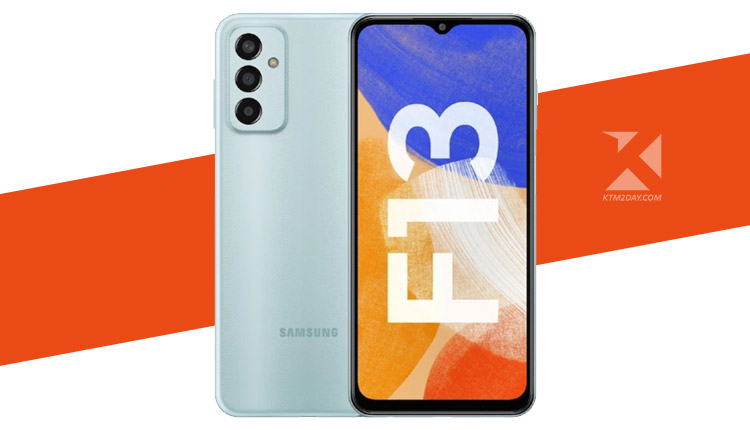 ☰ Specifications :
6.6 inches, PLS LCD, 1080 x 2408 pixels, 20:9 ratio (~400 ppi), Corning Gorilla Glass 5
Exynos 850 (8nm)
Mali-G52
4GB RAM
64GB, 128GB internal storage
8 MP, f/2.2, (wide) Selfie Camera
Triple Main Camera setup

50 MP, f/1.8, (wide), PDAF
5 MP, f/2.2, 123˚ (ultrawide)
2 MP, f/2.4, (depth)

4G, dual-band Wi-Fi, Bluetooth 5.0, GPS, NFC, FM radio, USB Type-C 2.0
Fingerprint (side-mounted), accelerometer, compass
Li-Po 6000 mAh, 15W fast charging
Android 12, One UI Core 4.1
☰ Samsung Galaxy F13 Price : Rs. 23,999 (4 GB/128 GB)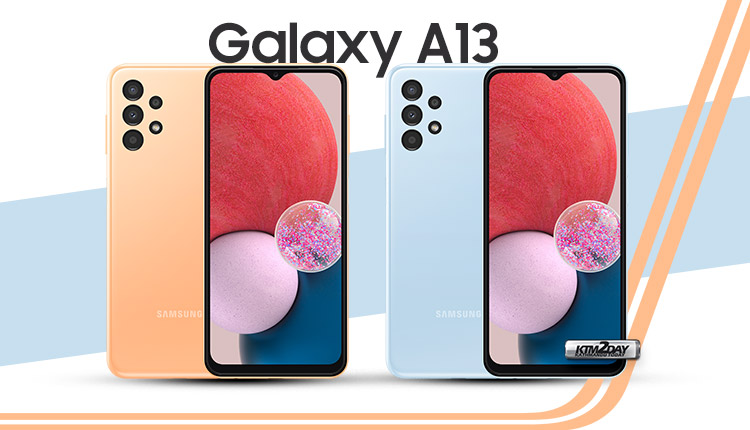 ☰ Specifications :
Screen: 6.6″ TFT LCD with 2,408 x 1,080 pixel resolution
Processor: Exynos 850 8nm
RAM: up to 6 GB
Internal storage: 64 GB
Rear Camera:

Primary: 50 megapixels , f/1.8
Wide angle: 5 megapixels, f/2.2
Macro: 2 megapixels, f/2.4
Depth: 2 megapixels, f/2.4

Front camera: 8 megapixels, f/2.2
Battery: 5,000 mAh with 25W fast charging support
Audio: Headphone jack
Security: Side mounted fingerprint sensor
Android 12, OneUI 4.1
☰ Samsung Galaxy A13 Price : Rs. 21,499  (4GB/64GB) Rs. 25,499  (6GB/128GB)
☰ Specifications :
6.4-inch Super AMOLED display with HD+ resolution
Display with notch and 90 Hz refresh rate
MediaTek Helio G80 Platform
GPU Mali-G52 MC2
4 GB or 6 GB of RAM
64 GB or 128 GB of internal storage
13 MP front camera
Four rear cameras:

Main lens with 48 MP sensor
Ultrawide lens with 8 MP sensor
Macro lens with 2 MP sensor
Depth lens with 2 MP sensor

Dual-SIM, 4G/LTE connection and biometric reader on the side
6,000 mAh battery with 15W charging
Android 11 under the Interface One UI Core 3.1
☰ Samsung Galaxy F22 Price : Rs. 20,999  (4GB/64GB) Rs. 24,499  (6GB/128GB)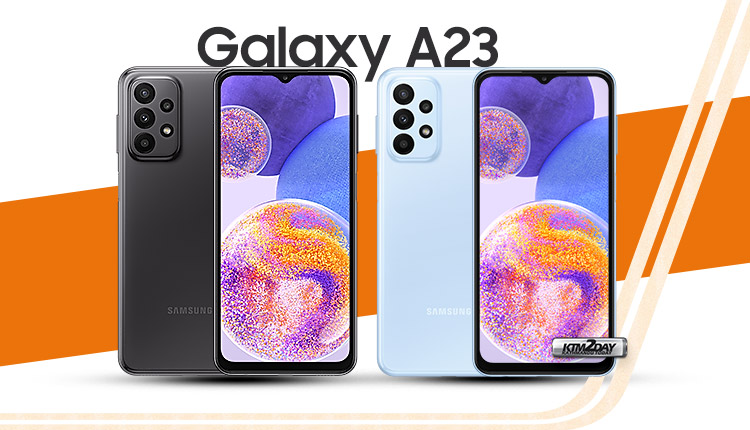 ☰ Specifications :
Screen: 6.6 inch 1080 x 2408 (FHD+) and 90 Hz refresh rate
Processor: Octa-Core (2.4 GHz + 1.9 GHz)
RAM: up to 6 GB
Internal storage: 128 GB
Rear Camera:

Primary: 50 megapixels , f/1.8
Wide angle: 5 megapixels, f/2.2
Macro: 2 megapixels, f/2.4
Depth: 2 megapixels, f/2.4

Front camera: 8 megapixels, f/2.2
Battery: 5,000mAh, 25W fast charging stand
Audio: Headphone jack
Security: Side fingerprint sensor
Operating system: Android 12 with One UI 4.1
☰ Samsung Galaxy A23 Price : Rs. 25,999  (4GB/64GB) Rs. 29,999  (6GB/128GB)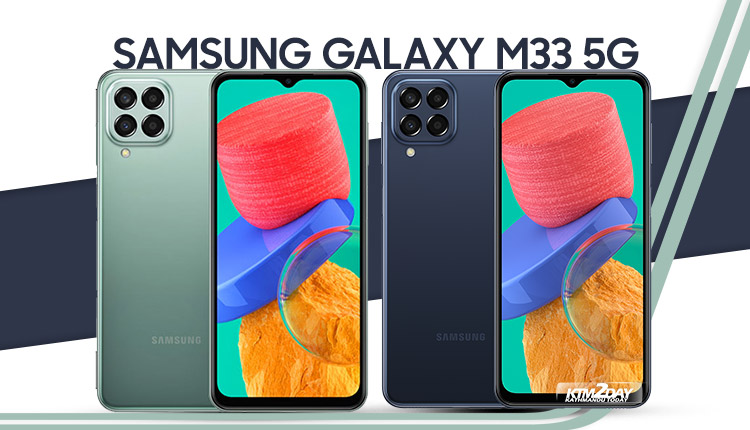 ☰ Specifications :
6.6-inch TFT LCD screen with HD+ resolution
120 Hz rate and drop notch
Exynos 1280 (5nm) SoC
GPU
6 GB or 8 GB of RAM
128 GB of storage (expandable up to 1 TB)
8 MP front camera
Four rear cameras:

Main lens with 50 MP sensor
Ultrawide lens with 5 MP sensor
Macro lens with 2 MP sensor
Depth lens with 2 MP sensor

Wi-Fi Dual Band, 5G and Bluetooth 5.1
6,000 mAh battery with fast 25W charging
Android 11 with One UI 4.1
☰ Samsung Galaxy M33 5G Price : Rs. 33,999 (6GB/128GB) Rs. 35,999  (8GB/128GB)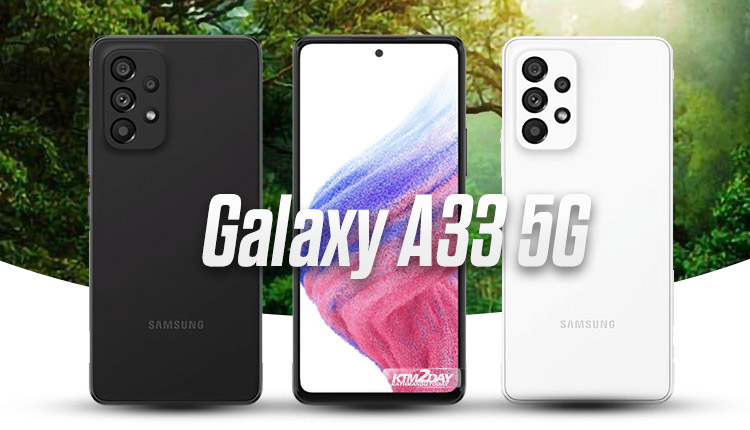 ☰ Specifications :
6.4-inch Super AMOLED display with FHD+ resolution
Infinity-U display with 90 Hz refresh rate
Exynos Platform 1280
6 GB of RAM
128 GB of internal storage
Expandable memory with MicroSD card
13 MP front camera
Four rear cameras:

Main lens with 48 MP sensor (OIS, f/1.8)
Wide-angle lens with 8 MP sensor (f/2.2)
Macro lens with 5 MP sensor (f/2.4)
Depth lens with 2 MP sensor (f/2.4)

5G connection, stereo sound, NFC, Bluetooth 5.1, digital reader and IP67 certification
5,000 mAh battery with fast charging up to 25W
Android 12 running under One UI 4.1
☰ Samsung Galaxy A33 5G Price : Rs. 42,999 (8GB/128GB)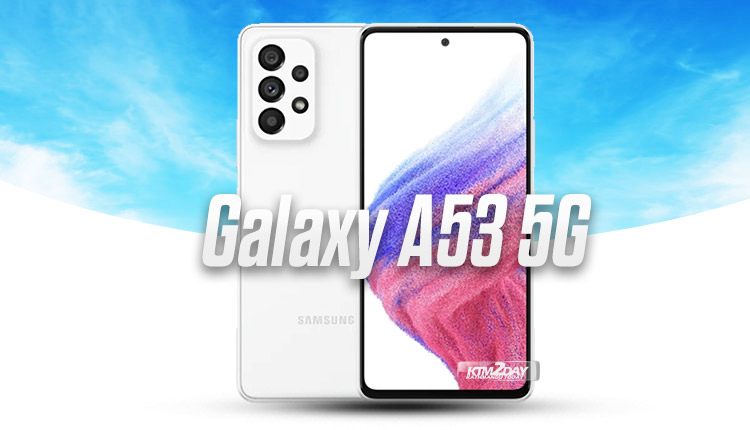 ☰ Specifications :
6.5-inch Super AMOLED display with FHD+ resolution
Display with hole and 120 Hz refresh rate
Exynos 1200 Platform 
6 GB or 8 GB of RAM
128 GB or 256 GB of internal storage
Expandable memory with MicroSD card
32 MP front camera
Four rear cameras

Main lens with 64 MP sensor (OIS, f/1.8)
Wide-angle lens with 12 MP sensor (f/2.2)
Macro lens with 5 MP sensor (f/2.4)
Depth lens with 5 MP sensor (f/2.4)

5G connection, stereo sound, Bluetooth 5.1, NFC, digital reader and IP67 certification
5,000 mAh battery with fast charging up to 25W
Android 12 running under interface One UI 4.1
☰ Samsung Galaxy A53 5G Price : Rs. 55,999 (8GB/128GB)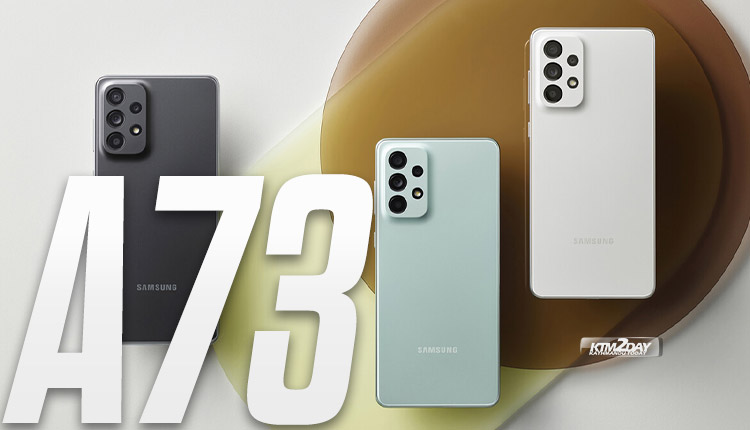 ☰ Specifications :
6.7-inch Super AMOLED Plus display

Full HD+ resolution and 120 Hz refresh rate

Qualcomm Snapdragon 778G mobile platform
6 or 8 GB of RAM
128 or 256 GB of internal storage
32 MP front camera
Quadruple rear camera:

108 MP (f/1.8) main sensor with OIS
Ultrawide 12 MP sensor (f/2.2)
5 MP macro sensor (f/2.4)
5 MP depth sensor (f/2.4)

5G support, IP67 Certification, Under display fingerprint reader
5,000 mAh battery, Fast charging of 25W
Android 12, under the interface One UI 4.1
☰ Samsung Galaxy A73 5G Price : Rs. 75,999 (8GB/256GB)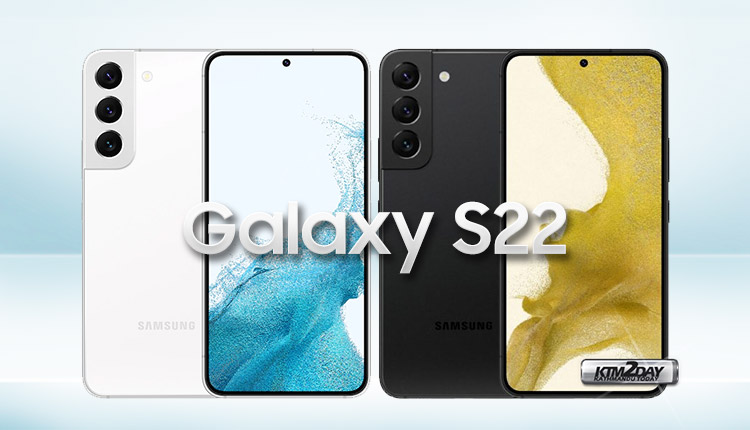 ☰ Specifications :
6.1-inch Dynamic AMOLED 2X display

Full HD+ resolution (2340 x 1080) and 120 Hz refresh rate (10-120 Hz)

Qualcomm Snapdragon 8 Gen 1 or Exynos 2200 Platform
8 GB of RAM
128 or 256 GB of internal storage
5G support
IP68 certification to withstand liquids and dust
10 MP (f/2.2) front camera with Dual Pixel AF
Triple rear camera:

50 MP (f/1.8) main sensor with Dual Pixel AF and OIS
Ultrawide 12 MP sensor (f/2.2; FF)
10 MP telephoto sensor (f/2.4; PD), with 3x optical zoom and OIS

3,700 mAh battery, 25W fast charge, wireless charging 15W
Android 12 under custom interface One UI 4
☰ Samsung Galaxy S22 Price : Rs. 1,18,999 (8GB/256GB)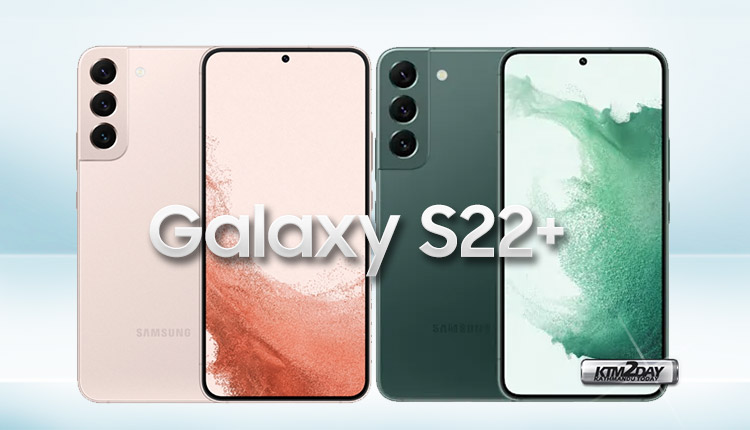 ☰ Specifications :
6.6-inch Dynamic AMOLED 6X display

Full HD+ resolution (2340 x 1080) and 120 Hz refresh rate (10-120 Hz)

Qualcomm Snapdragon 8 Gen 1 or Exynos 2200 Platform
8 GB of RAM
128 or 256 GB of internal storage
5G support
IP68 certification to withstand liquids and dust
10 MP (f/2.2) front camera with Dual Pixel AF
Triple rear camera:

50 MP (f/1.8) main sensor with Dual Pixel AF and OIS
Ultrawide 12 MP sensor (f/2.2; FF)
10 MP telephoto sensor (f/2.4; PD), with 3x optical zoom and OIS

4,500 mAh battery, 45W fast charge, wireless charging 15W
Android 12 under custom interface One UI 4
☰ Samsung Galaxy S22+ Price : Rs. 1,37,999  (8GB/256GB)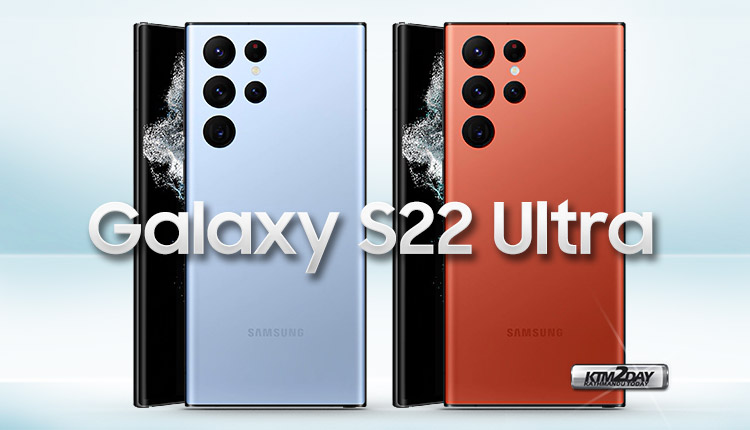 ☰ Specifications :
6.8 inch Dynamic AMOLED 8X display, 1750 nits

Quad HD+ resolution (3080 x 1440)

Qualcomm Snapdragon 8 Gen 1 or Exynos 2200 chipset
8 or 12 GB of RAM
128, 256 or 512 GB of internal storage
5G support
IP68 certification to withstand liquids and dust
40 MP front camera (f/2.2; PD)
Quadruple rear camera:

108 MP main sensor (f/1.8; 24mm, PD), with OIS
Ultrawide 12 MP sensor (f/2.2; 13mm,Dual Pixel AF)
10 MP telephoto sensor 1 (f/2.4; 70mm,Dual Pixel AF), with 3x optical zoom and OIS
10 MP telephoto sensor 2 (f/4.9; 230mm,Dual Pixel AF), with 10x optical zoom and OIS

5,000 mAh battery
45W fast charging support, Wireless 15W, Reverse wireless charging
5G, Dual SIM, eSIM, Bluetooth 5.2, USB Type-C, NFC, WiFi 6E, GPS, UWB
IP68, Samsung DeX, Knox, Under display fingerprint reader, S-Pen
Android 12 under custom interface One UI 4
☰ Samsung Galaxy S22 Ultra Price : Rs. 1,69,999 (12GB/256GB) Rs. 1,79,999 (12GB/512GB)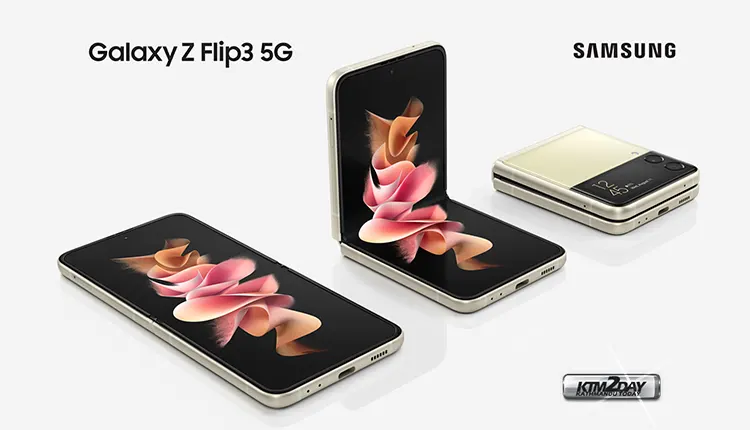 ☰ Specifications :
Dynamic AMOLED 2X 6.7-inch main screen (FHD+ and 120 Hz)

1.9 inch Super AMOLED secondary screen

Qualcomm Snapdragon 888 5G mobile platform
8 GB of RAM
128 or 256 GB of internal storage UFS 3.1
Side biometric reader
10 MP front camera (f/2.4)
Dual set of rear cameras:

12 MP main sensor (f/1.8, OIS)
Ultrawide 12 MP sensor (f/2.2)

Dimensions: 72.2 x 166.0 x 6.9 mm (open) or 72.2 x 86.4 x 17.1-15.9 mm (folded)
Weight: 183 grams
3,300 mAh battery
Android 11 as operating system, under the interface One UI
☰ Samsung Galaxy Z Flip 3 Price : Rs. 89,999 (8GB/256GB)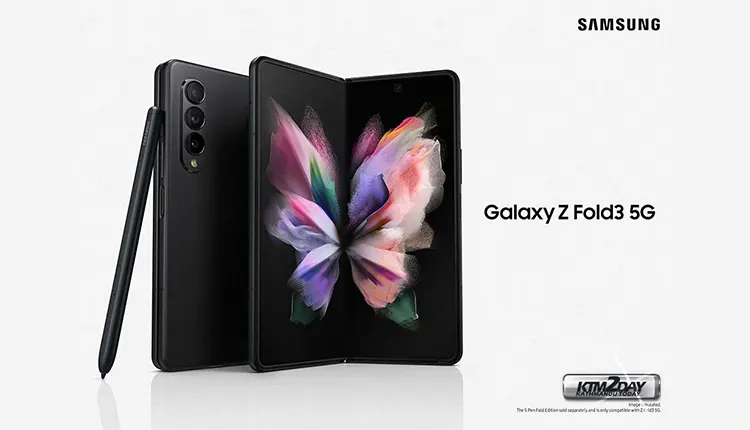 ☰ Specifications :
7.6-inch Dynamic AMOLED 2X main screen (FHD+ and 120 Hz)

6.2-inch Dynamic AMOLED 2X secondary display (FHD+ and 120 Hz)

Qualcomm Snapdragon 888 5G mobile platform
12 GB of RAM
256 or 512 GB of internal storage UFS 3.1
Side biometric reader
S Pen Support
Front camera under 4 MP (f/1.8) screen
10 MP cover camera (f/2.2)
Triple set of rear cameras:

12 MP main sensor (f/1.8, OIS)
Ultrawide 12 MP sensor (f/2.2)
12 MP (f/2.4, OIS) telephoto sensor with 2x optical zoom and 10x digital
Dimensions: 128.1 x 158.2 x 6.4 mm (open) or 67.1 x 158.2 x 16-14.4 mm (folded)
Weight: 271 grams
4,400 mAh battery
Android 11 as operating system, under the interface One U
☰ Samsung Galaxy Z Fold 3 Price : Rs. 1,69,999 (256GB) Rs. 1,79,999 (512GB)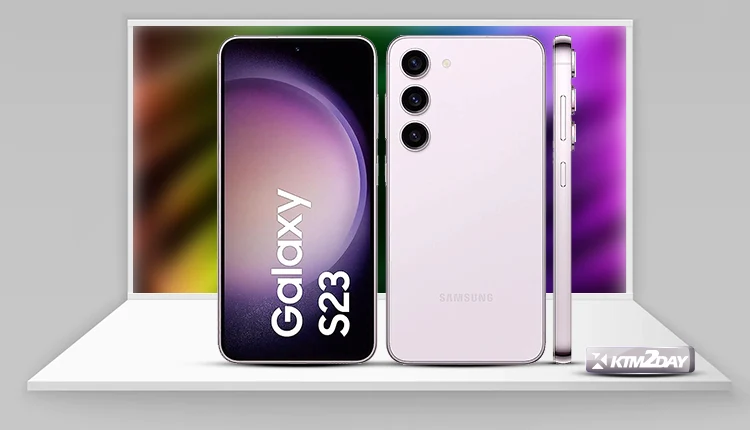 | | |
| --- | --- |
| Launch Date | February 01, 2023 |
| Performance | Qualcomm Snapdragon 8 Gen 2 |
| Camera | 50 MP + 10 MP + 12 MP |
| Display Size | 6.1 Inches (17.27 cm) |
| Battery | 3900 mAh Li-Ion |
| Storage | 256 GB / 512 GB |
| Memory | 8GB, 12GB RAM |
Rs. 1,27,999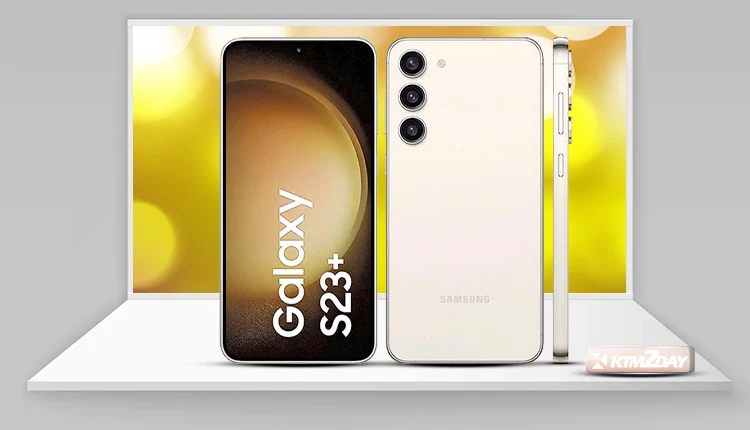 | | |
| --- | --- |
| Launch Date | February 01, 2023 |
| Performance | Qualcomm Snapdragon 8 Gen 2 |
| Camera | 50 MP + 10 MP + 12 MP |
| Display Size | 6.6 Inches (17.27 cm) |
| Battery | 4700 mAh Li-Ion |
| Storage | 256 GB / 512 GB |
| Memory | 8GB RAM,256GB/512GB storage |
Rs. 1,51,999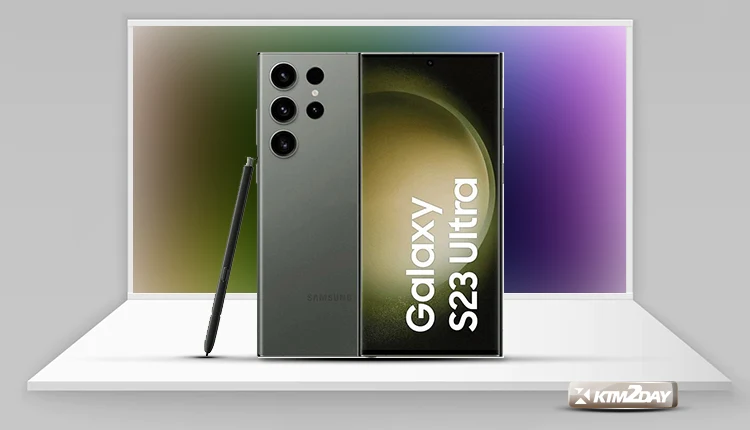 | | |
| --- | --- |
| Launch Date | February 01, 2023 |
| Performance | Qualcomm Snapdragon 8 Gen 2 |
| Camera | 200 MP + 10 MP + 10 MP + 12 MP |
| Display Size | 6.8 Inches (17.27 cm) |
| Battery | 5000mAh Li-Ion |
| Storage | 256 GB / 512 GB |
| Memory | 8GB, 12GB RAM |
Rs. 1,91,999 – Rs. 2,09,999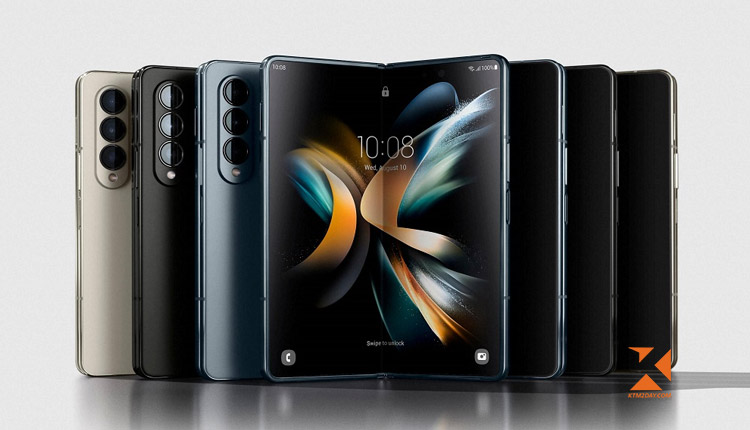 Specifications::
Dynamic AMOLED 2X 7.6-inch main screen with 23:9 aspect ratio

120 Hz refresh rate and 2176 x 1812 pixel resolution

Dynamic AMOLED 2X 6.2-inch external display

120 Hz refresh rate and 2316 x 904 pixel resolution

Qualcomm Snapdragon 8 Plus Gen 1 mobile platform
12 GB of RAM
256 or 512 GB of internal storage
IPx8 Certification
10 MP main front camera
Front camera under 4 MP screen
Triple rear camera:

50 MP Main Sensor (OIS)
Sensor ultrawide de 12 MP
10 MP telephoto sensor (3x optical zoom)

4,400 mAh battery, with 25W charging
Android 12 as operating system, under the interface One UI 4
Rs. 2,44,999
▰ Samsung Galaxy Z Flip 4 5G »
Rs. 1,44,999
---
Samsung Galaxy Tablets Price in Nepal

Model
RAM/ROM
MRP Rs.
Galaxy Tab A8 (WiFi)
10.5 inch, 4GB/64GB, 7040 mAh
35,499
Galaxy Tab A8 (LTE)
4GB/64GB
42,499
Galaxy Tab A8 (LTE)
4GB/128GB
45,999
Galaxy Tab A7 Lite (T225) LTE
3GB/32GB
24,999
Galaxy Tab A7 Lite (T225) LTE
4GB/64GB
26,999
Galaxy Tab S6 Lite (P615)
4GB/64GB
54,999

Samsung Galaxy Wearables Price in Nepal

Galaxy Watch 5 Pro
64,999
Galaxy Watch 5 S (40mm)
39,999
Galaxy Watch 5 L (44mm)
44,999
Galaxy Watch 4 Classic (42mm)
46,999
Galaxy Watch 4 Classic (46mm)
49,999
Galaxy Watch Active 3 (45mm)
52,799
Galaxy Buds 2 Pro
27,999
Galaxy Buds+
16,999
Galaxy Buds Live
19,999
Galaxy Buds 2
17,999
Galaxy Buds
14,490
Authorized Dealer of Samsung Smartphones in Nepal
IMS Group
Phone: 01-4251545 | 01-4251318
Email: [email protected]
Website : https://www.ims-np.com/

Also read – Mobile Phone Prices in Nepal