Xiaomi 12T Pro and 12T launched – Comparison of Specs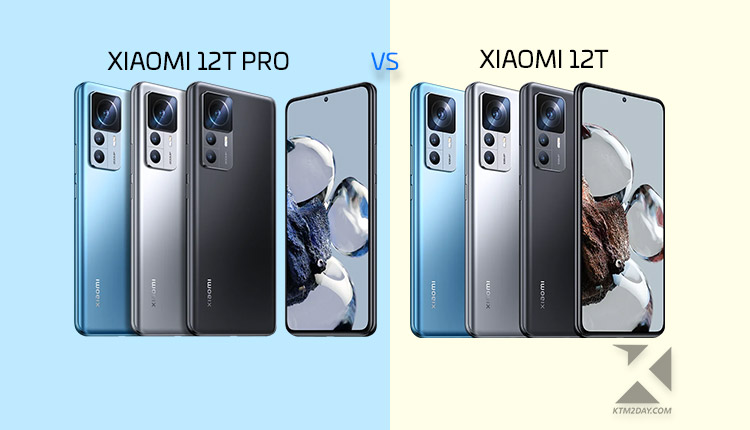 Xiaomi's 12T series of smartphones was officially unveiled earlier this week. This year's lineup consists of two models: the Xiaomi 12T and the 12T Pro. They are the successors to the Xiaomi 12 series models that were announced last year.
Since Xiaomi has released not one but two new models, we figured it would be instructive to evaluate their similarities and differences.
There aren't that many distinctions between these two models on paper. It's true that visually, the Xiaomi 12T and the Xiaomi 12T Pro are indistinguishable. Display- and form-wise, they're identical; where they diverge is in the details of their processors and memory.
To that end, let's compare the Xiaomi 12T and the Xiaomi 12T Pro to find out what sets them apart.
Comparing the Xiaomi 12T and 12T Pro
Specs
Xiaomi 12T
Xiaomi 12T Pro
DISPLAY
6.67 inches, 1220 x 2712 pixels (Full HD+), AMOLED, 120Hz, HDR10+
6.67 inches, 1220 x 2712 pixels (Full HD+), AMOLED, 120Hz, HDR10+, Dolby Vision
PROCESSOR
MediaTek Dimensity 8100-Ultra octa-core at 2.8GHz
Qualcomm Snapdragon 8+ Gen 1 octa-core 3.2 GHz
MEMORY
8 GB RAM, 128 GB – 8 GB RAM, 256 GB
8 GB RAM, 128 GB – 8 GB RAM, 256 GB – 12 GB RAM, 256 GB
CONNECTIVITY
Wi-Fi 802.11 a/b/g/n/ac/6, Bluetooth 5.3, GPS
Wi-Fi 802.11 a/b/g/n/ac/6, Bluetooth 5.2, GPS, eSIM
CAMERA
Triple 108 + 8 + 2 MP, f/1.7 + f/2.2 + f/2.44K recording
20 MP front camera
Triple 200 + 8 + 2 MP, f/1.7 + f/2.2 + f/2.48K recording
20 MP f/2.0 front camera
BATTERY
5000 mAh, fast charging 120W
5000 mAh, fast charging 120W
ADDITIONAL FEATURES
5G, dual SIM
5G, dual SIM, Harmon Kardon tuning
DIMENSIONS AND WEIGHT
163.1 x 75.9 x 8.6mm,
202 g
163.1 x 75.9 x 8.6mm,
205 g
SOFTWARE
Android 12, MIUI 13
Android 12, MIUI 13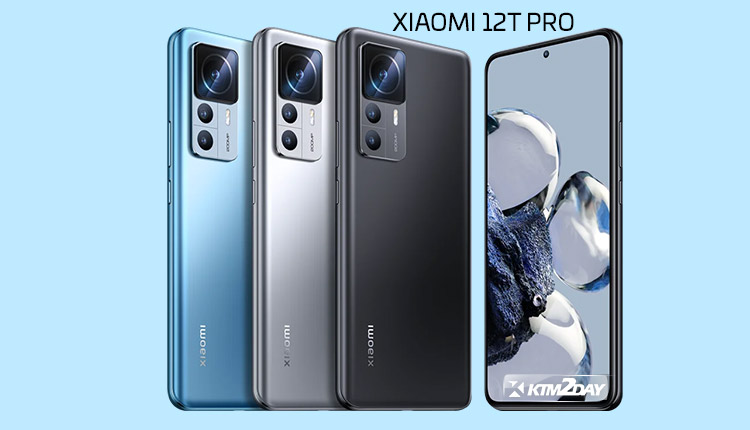 DESIGN
Both phones are nearly indistinguishable in terms of design. Both phones look very much like the Xiaomi 12 series phones from the previous year. That's not to say the design is bad, but if you were hoping for something new, you'll be let down.
The camera modules of the Xiaomi 12T and 12T Pro are both rectangular and contain three cameras. Given that the 12T Pro has one of the highest resolution cameras available (a 200MP sensor), the size of the primary camera is relatively similar between the two models. Both phones have a similar panel up front, with a camera cut out at the top in the form of a punch hole.
Over all, the two models will be nearly impossible to tell apart based on design alone. Dimensionally, they are identical at 163.1 x 75.9 x 8.6 mm, but at 205 grams, the 12T Pro is noticeably heavier than the Xiaomi 12T (which weighs 202 grams).
Similarly, both phones come in three colors—Black, blue, and silver—all of which are identical to one another.
DISPLAY
The display on both the Xiaomi 12T and the 12T Pro are identical. Both phones have a 6.67-inch OLED display with a 1.5K (1220 x 2712) resolution, 120Hz refresh rate, and HDR10+ compatibility. As far as we can tell, Dolby Vision compatibility is exclusive to the Xiaomi 12T Pro. This, however, appears to be the only significant difference between the screens of these two models.
They can both be unlocked with a fingerprint reader that's embedded into the screen.
SPECS
The processor is where you'll notice the most difference between the Xiaomi 12T and 12T Pro. The Qualcomm SM8475 Snapdragon 8+ Gen 1 chipset, clocked at 3.2 GHz, is the fastest mobile processor available as of 2022, and it comes standard in the Xiaomi 12T Pro. However, the Xiaomi 12T features Mediatek's fastest chip, the Dimensity 8100-Ultra, which can reach speeds of up to 2.85GHz. Both chips are very powerful, but the Snapdragon one may have a slight edge in processing power. Performance and graphics should be about the same. To play games or use applications that require a lot of processing power, you shouldn't have any problems doing so on either device.
There are also variations between these gadgets in terms of their available configurations. The Xiaomi 12T's 128GB and 256GB storage options are both limited by a paltry 8GB of RAM. The Xiaomi 12T Pro, on the other hand, is available with either 8GB or 12GB of RAM, and its storage capacity can be increased to 256GB.
Both phones use the MIUI 13 user interface, which is based on Android 12, because they are both part of the 12T series.
CONNECTIVITY
There are also distinctions in terms of connectivity. The Xiaomi 12T Pro, for instance, has dual-SIM functionality and eSIM functionality, whereas the 12T does not. Newer Bluetooth 5.3 is supported by the base 12T model, while older Bluetooth 5.2 is included in the Pro model.
Unlike the standard Xiaomi 12T, the Pro model features dual speakers with Harmon Kardon tuning. Both phones also share other connectivity features like a 360° Ambient light sensor, a Flicker Sensor, and an IR Blaster.
CAMERA
The camera on the Xiaomi 12T Pro has been greatly improved in comparison to previous models. The phone has a 200 megapixel main camera, as well as an 8 megapixel ultra wide-angle sensor and a 2 megapixel macro camera. The main shooter boasts an f/1.69 aperture, OIS, and an 8P lens.
Contrarily, the base model receives an 8MP ultra-wide and 2MP macro camera, in addition to the same 108MP primary shooter with f/1.7 aperture and OIS (no 8P lens) as its Pro counterparts.
The 12T Pro's primary 200MP camera can bin up to 16 pixels at once, resulting in 12.5MP images with incredible detail. To produce 12MP images, the 12T's 108MP sensor also bins nine pixels at a time.
The Pro version has more advanced camera functions, which is another distinct difference between the two. The more expensive model, for instance, has an improved camera with the addition of Xiaomi's ProCut and ProFocus software. The standard model only records video at 4K at 30 frames per second, but the Pro model can record video at 8K at 7680 x 4320 at 24 frames per second.
Both devices sport a 20-megapixel (MP) f/2.2 camera in the front for taking selfies and making video calls.
BATTERY
Both phones feature equivalent batteries and charging methods. With a 5000 mAh battery and up to 120W fast charging, the Xiaomi 12T and 12T Pro claim to reach 100% in less than 20 minutes.
PRICE
Priced at EUR 599 for the standard Xiaomi 12T, the Pro version begins at EUR 749 around the world.
VERDICT
The Xiaomi 12T Pro, which has a superior camera and a slightly faster processor, appears to be the better value. But if you're looking to save some cash, the Xiaomi 12T is a capable alternative that won't let you down for its EUR 600 price tag.