Terra Motors Electric Scooters Price in Nepal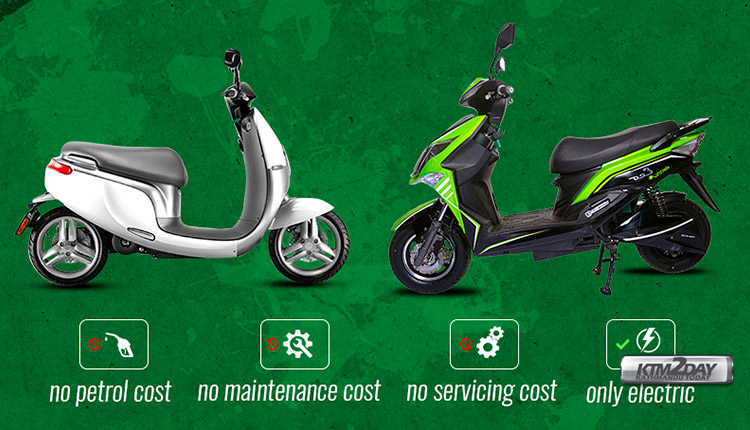 Tokyo-headquartered Terra Motors is the leader in electric two and three-wheelers in Japan. It also has presence in various Southeast Asian countries like India, Vietnam, Bangladesh, Nepal, Cambodia, Indonesia and Myanmar.
Japanese electric vehicle maker Terra Motors Corporation is working on a slew of products, including a three wheeler and two wheeler, which it plans to launch in India over the next two years.
Fair Auto Nepal has been assigned the authorized dealer for Terra Motors manufactured two wheelers and electric rickshaws in the domestic market.
Terra Motors, which is a leading electric vehicle maker in Japan, also plans to make make India export hub for Asian countries.
The company, currently, imports parts from China and then assemble the units at its three plants in India.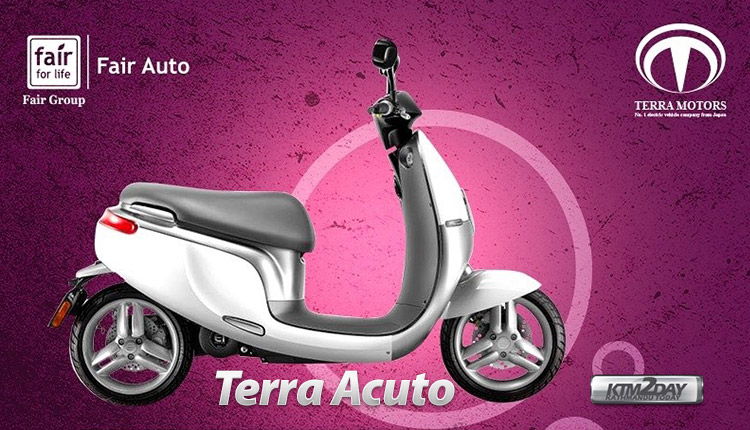 "We started business in India in 2014-end and now we are aiming to become number one electric vehicle manufacturer in the country," Terra Motors MD Akihiro Ueda told .
The company, which has sold around 12,000 e-rickshaws in India since 2014-end, is now focussing to expand its product portfolio in the South Asian markets.
Terra Motors in Nepal sells electric rickshaws which is now really getting popular in cities like Butwal, Janakpur, Kalaiya, Bhairahawa, Dhangadi, Rautahat, Chitwan, Birgunj and Damak.
Apart from that, the company is now selling electric scooters – Acuto and Eco at very affordable prices.
The Acuto is a premium version which comes with sleek design and Panasonic Lithium Ion battery that can give extra mileage and charge in shorter period of time.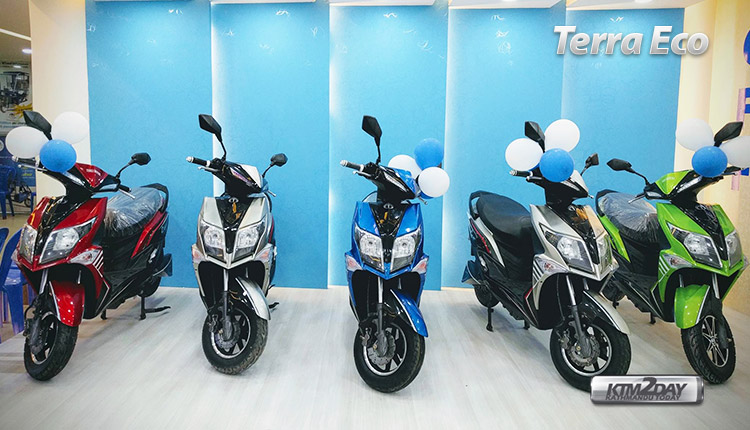 While the standard version Eco comes with Lead acid battery and resembles the latest scooter design as seen in Indian scooters lineup.
The Eco is also cheaper compared to the Acuto but takes a bit longer to charge its battery to 100% full.
Terra Acuto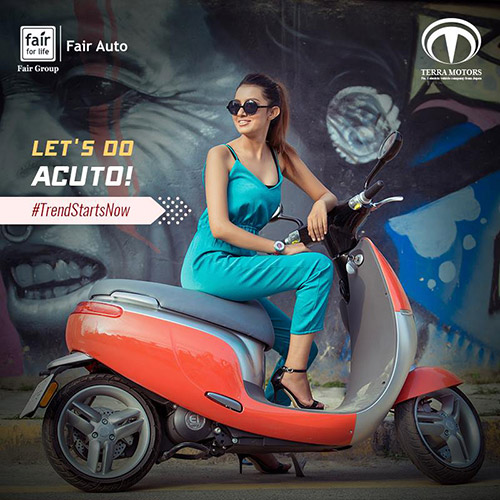 Terra Acuto Specifications
Power: 3000W middle drive, brushless electrical motor
Battery: Panasonic Removable Li-ion 60V and 32 AMP battery
Charging time: 3 hrs for 80% charge, 3.5 hours for 100% charge
Range: 70-75 km per charge @45kmph
Tires : 100-60/12
Carbon Emission: 0 gm/km
Max Speed: 75 kmph
Wheelbase : 1260mm
Ground Clearance : 150mm
Rim : Front Aluminium, Rear Aluminium
Brakes : Front Disc/Rear Disc
Rear Shock Absorber : Hydraulic
Terra Acuto Price in Nepal: Rs. 2,00,000
---
Terra Eco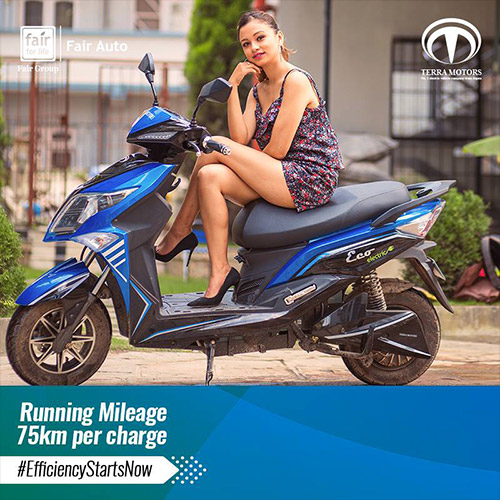 Terra Eco Specifications
Power: 3000W middle drive, brushless electrical motor
Battery: Lead Acid 60V and 32 AMP battery
Charging time: 5 hrs for 80% charge, 7 hours for 100% charge
Range: 70-75 km per charge @45kmph
Tires : 100-60/12
Carbon Emission: 0 gm/km
Max Speed: 60 kmph
Wheelbase : 1260mm
Ground Clearance : 150mm
Rim : Front Aluminium, Rear Aluminium
Brakes : Front Disc/Rear Disc
Rear Shock Absorber : Hydraulic
Terra Eco Price in Nepal: Rs. 1,65,000