LG Washing Machines Price in Nepal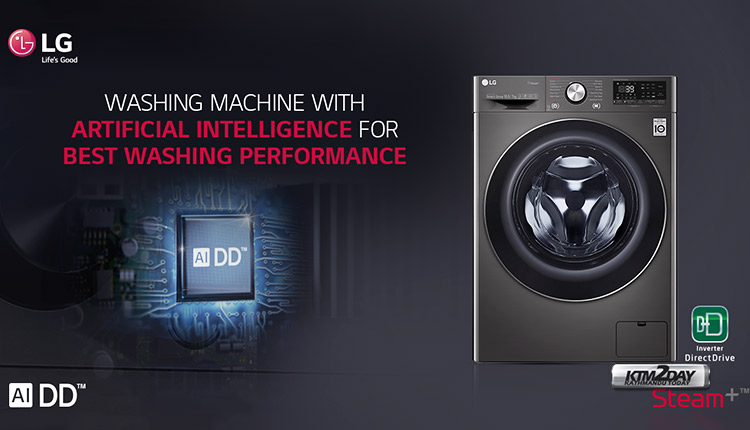 LG washing machines are becoming increasingly popular for their state-of-the-art options, high-quality performance, and cost-effective prices. From their selection of front-load and top-load models, consumers have a wide range of designs and features to choose from. LG washing machines are equipped with advanced technology and are designed for ultimate convenience and hydrated satisfaction.
One of LG's most popular features is their 6 Motion Direct Drive technology. This technology uses a combination of motions that use powerful tumble action, scrubbing, filtration, and much more to effectively clean clothes, while still being gentle on fabric.
LG's 6 Motion Direct Drive technology also helps extend the lifetime of your clothes by running more efficiently, thus reducing wear and tear. This technology also reduces the amount of running time and energy needed to operate the washing machine.
In order to maintain maximum energy efficiency, LG washing machines also feature their Inverter Direct Drive Motor. This direct drive motor is lightweight, highly durable and exceptionally quiet during spin cycles. This increase in efficiency reduces the amount of energy needed to operate the washing machine, which can help keep your utility bill low.
Another advanced feature of LG washing machines is their steam cleaning technology. By injecting steam into the washing cycle, clothes are cleaned even more thoroughly as the steam helps to lift dirt and eliminate odour and bacteria.
This technology can also reduce wrinkles, leaving your clothes looking fresh and wrinkle-free at the end of the cycle. This is an especially handy option for those who do not have access to an iron and still want their clothes to look freshly cleaned and smooth.
Lastly, LG washing machines include many convenient features such as large capacity tubs and water management settings. Their capacity tubs allow washers to accommodate larger loads, helping to reduce the total number of washing cycles. Additionally, the water management settings allow users to easily adjust the amount of water used in each cycle and can also help to reduce the machine's overall energy consumption.
Overall, LG washing machines are a great choice for those looking for an easy to use, high-performance machine that is both cost-effective and energy efficient. With many different models and features to choose from, consumers are sure to find the perfect machine to suit their needs.
LG washing machines are often neck-to-neck with Samsung ones in terms of popularity. Similarly known for their reliability, LG often ranks among the top washing machines of the year.
Big families, take note – LG is also known for highly efficient top loading washing machines that have huge capacities of 12kg and larger. Many LG washing machine models also have what's called an Inverter Direct Drive Motor, which supposedly makes the machines quieter, more reliable and gentler on fabrics. The motor itself has a 10-year warranty.
Other LG technologies to note are:
AI Direct Drive : LG's AI Direct Drive Washing Machines can automatically determine the best settings based on the weight and texture of your clothing for an optimal wash.
TwinWash: Said to be the world's first washing machine to combine both a front load and top load washer, this allows it to wash and spin two loads at the same time.
TrueSteam: Instead of water, steam is used to remove wrinkles and odours in 20 minutes. This technology promises to steam off 99.9% of allergens.
TurboWash: A jet spray is used for a cleaner, faster wash in under an hour, saving time, energy and water.
6 Motion Direct Drive: Six different motions are used so that washes can be customized for different types of clothes.
Eco Hybrid: This makes the washing machines better able to manage electricity and water consumption.
LG Smart app: Again, you can control your machine remotely via an app so you can do your laundry even when you're not home.
Here's a look at some popular LG washing machine models and how much they cost in our local markets across Nepal.
LG Washing Machines Price in Nepal
Image
Model/Specs
Price NRs.
LG FV1408S4V 8 KG
AI DD™ intelligent fabric preservation system
Spa Steam™
Steam+™
Large Capacity Drum
SmartThinQ™
Tempered Glass Door
Compatible with TWINWash™ Mini.​
10 Years Warranty on Motor
89,990
LG FV1409S3V 9KG
AI DD™ intelligent fabric preservation system
TurboWash 360°™
Steam+™
Large Capacity Drum
SmartThinQ™
Compatible with TWINWash™ Mini.​
Tempered Glass Door
10 Years Warranty on Motor
1,02,590
LG TWC1409S2V 9 KG
6 Motion Inverter Direct Drive
TrueSteam
Turbo Wash
Add Items
WIFI
Tub Clean
10 Years Warranty on Motor
93,790
LG FC1409S3W 9 KG
Colour White
Display LED Display
Motor 6 Motion Direct Drive
Motor Warranty 10 years on Direct Dirve motor
Max. Spin Speed 1400 RPM
Turbo Wash
Tub Clean
Number of Programs 14
93,790
LG FC1450S2E 10.5 KG
6 Motion Inverter Direct Drive
True Steam
Turbo Wash
Add item
Smart Diagnosis
1 Year Warranty, including 10 Years Warranty on Motor
1,28,590
LG FC1408S3E 8 Kg
Display Touch LED + DIAL
Colour Stone Silver
6 Motion™ Inverter Direct Drive™
Motor Warranty 10 years on Direct Dirve motor
TurboWash™
SpaSteam®
Wi-Fi Enabled
Tub Clean
82,790
LG FC1408S4W 8 KG
6 Motion™ Inverter Direct Drive™
TurboWash™
TrueSteam®
Wi-Fi Enabled
Smart Diagnosis™
Tub Clean
NFC Download
14 Wash Programs
1 Year Warranty, including 10 Years Warranty on Motor

78,090
LG FC1207S4L 7 KG
6 Motion™ Inverter Direct Drive™
NFC Download
Child Lock
14 Wash Programs
70,490
LG FC1007S5W 7 KG
6 Motion™ Inverter Direct Drive™
NFC Download
Child Lock
14 Wash Programs
62,290

Washer and Dryer Combo



LG FC1408H3E 8/5 KG
6 Motion™ Inverter Direct Drive™
Truesteam®
Eco Hybrid
Wi-Fi Enabled
Smart Diagnosis™
Tub Clean
1 Year Warranty, including 10 Years Warranty on Motor
1,01,590


LG TWC1409H2E 9/6 KG
6 Motion Inverter Direct Drive
True Steam®
Eco Hybrid
Wi-Fi Enabled
Smart Diagnosis
1 Year Warranty, including 10 Years Warranty on Motor
1,22,390


LG F2514DTGE 14/8 KG
59 MINUTES FAST WASH WITH TURBOWASH™
6 MOTION DD, MORE MOTION BETTER CARE
DIRECT DRIVE MOTOR, 10 YEAR WARRANTY
SMART NFC TAG ON
1 Year Warranty, including 10 Years Warranty on Motor
1,86,490


LG F2718RVTV 18/10 KG
6 Motion™ Inverter Direct Drive
TwinWash®
TrueSteam®
Eco Hybrid
TurboWash™
Wi-Fi Enabled
1 Year Warranty, including 10 Years Warranty on Motor
2,18,590

Dryer



LG TD-C8066S 8 KG
Truesteam®
Condenser Dryer
Smart Diagnosis™
Made in Korea
1 Year Warranty
1,19,090

Top Loader



LG T2107VSAGP 7 KG
Smart Filter
Smart Inverter Technology
Smart Motion
Tub Clean
Turbo Drum
1 Year Warranty, including 10 Years Warranty on Motor
37,590


LG T2108VSAL 8 KG
Smart Inverter™
3 Motion
Tub Clean
Child Lock
Delay Start
1 Year Warranty, including 10 Years Warranty on Motor
43,190


LG T2108VSAX 8 KG
Energy Saving with Smart Inverter Control
Auto Restart
Stand-by Power Save
Smart Motion
44,690
LG T2109VSAL 9 KG
Smart Inverter™
3 Motion
Tub Clean
Child Lock
Delay Start
1 Year Warranty, including 10 Years Warranty on Motor
50,890
LG T2310VSAL 10 KG
Smart Inverter
Smart Motion Technology
Turbo Drum
Punch +3 Pulsator
1 Year Warranty, including 10 Years Warranty on Motor
59,990
LG T2312VSAM 12 KG
Smart Inverter™ Control
Smart Motion
TurboDrum™
LoDecibel™ Quiet System
1 Year Warranty, including 10 Years Warranty on Motor
67,390
LG Washing Machines Price in Nepal - Updated on January 2023
---
Print Ad Dated May 14 – 2019
Also Read : Samsung Washing Machines Price in Nepal