iPhone XS Price in Nepal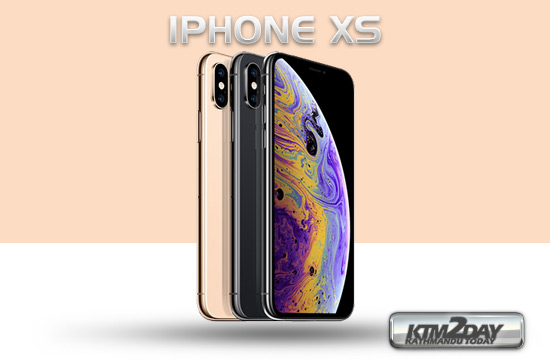 Display: The iPhone XS has one of the best displays found on any phone on the market. It's smaller than the iPhone XR at 5.8 inches but uses a colorful OLED panel with a wide contrast ratio and support for HDR, which means blacks are darker and whites are whiter. This is particularly useful for viewing photos where you'll still see detail in very dark or very bright areas of a picture. It also supports 3D Touch, which lets you tap harder into an icon to access a new menu of options. The XR does not have 3D Touch. The screen is also sharper than the iPhone XR.
Also read : iPhone XR Price in Nepal  and  iPhone XS Max Price in Nepal
Camera: The iPhone XS has the same front-facing camera as the iPhone XR. It also has the same 12-megapixel wide-angle camera on the back but adds a telephoto lens for 2x optical zoom, which means zooming into pictures will be clearer on the iPhone XS. Also, that secondary lens lets you take portrait pictures of anything, as opposed to just portraits of people on the iPhone XR.
Design: The iPhone XS has a more premium design than the iPhone XR. Apple uses polished steel along the borders of the phone instead of brushed aluminum, which gives it a first-class look. Also, it's available in gold, white or space gray, instead of the six colors the iPhone XR offers.
Chip: The iPhone XS has the same A12 Bionic chip as the iPhone XR and iPhone XS Max. It also supports Gigabit-class LTE networks, which will start to matter more next year as U.S. carriers upgrade their cell towers.
Other features: The iPhone XS is water-resistant and can be submerged in up to 2 meters of water for up to 30 minutes, while the iPhone XR can be submerged in up to 1 meter of water for 30 minutes. It also has wireless charging.
iPhone XS Price in Nepal
| iPhone XS | Price NRs. |
| --- | --- |
| 512 GB | 1,75,000 |
| 256 GB | 1,45,000 |
| 64 GB | N/A |
iPhone XS is available for purchase at OlizStore.Price List updated on 13-Jan-2020