Godrej Refrigerators Price in Nepal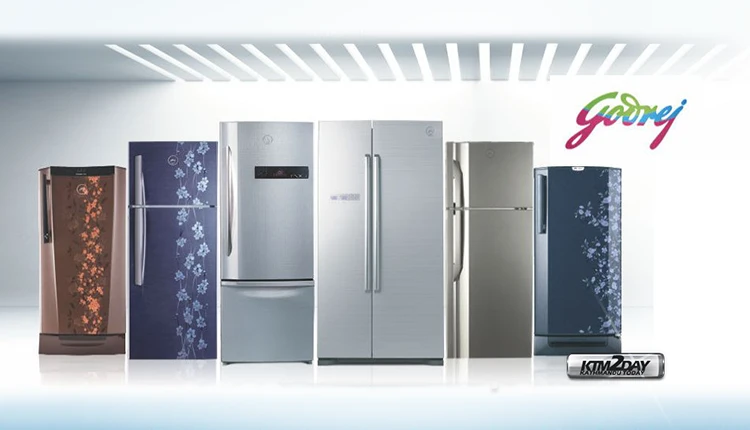 Godrej Refrigerators Price in Nepal
When it comes to home appliances, Godrej refrigerators are a top seller. It was founded in India over a century ago and has its headquarters in Mumbai.
Customers love their Godrej refrigerators because of its reliability, longevity, and low energy use. The chiller tray, bottle holders, ice-cube dispenser, and cool water dispenser are all within easy reach, thanks to the fridge's automatic cooling and user-friendly design.
When compared to other brands like Kelvinator, Electrolux, Haier, LG, Whirlpool, and Hitachi, the price of a Godrej refrigerator is reasonable and in line with the market. For your convenience, we've compiled a full list of Godrej refrigerator prices in Nepal.
Godrej Refrigerators Price in Nepal
| Image | Model Specifications | Price NRs. |
| --- | --- | --- |
| | Godrej Refrigerator 30 Ltr. CHOTUKOOL-BLACK | 16,790 |
| | Godrej Refrigerator 30 Ltrs TEC QUBE 30L HS Q103 BLACK | 17,990 |
| | Godrej Refrigerator 190 Ltr RD EDGE 205B 23 WRF JT ST | 25,290 |
| | Godrej Refrigerator 190 Ltr RD EDGE 205B 23 WRF STEEL WN | 25,290 |
| | Godrej Refrigerator 190 Ltr RD EDGE 205B 23 WHF ST WN | 25,390 |
| | Godrej Refrigerator 190 Ltr RDEDGE205B 23 WHF JY BL | 26,390 |
| | Godrej Refrigerator 190 Ltr RDEDGE205B 23 WHF JY WN | 26,390 |
| | Godrej Refrigerator 190 Ltr RD EDGE 205B 23 TAF JY BLU | 26,990 |
| | Godrej Refrigerator 190 Ltr RD EDGE 205B 23 TAF JY WN | 26,990 |
| | Godrej Refrigerator 190 Ltr RD EDGE 205B 23 TAF GL WN | 26,990 |
| | Godrej Refrigerator 190 Ltr RD EDGE 205B 23 TDF PP BLU | 27,990 |
| | Godrej Refrigerator 190 Ltr RD EDGE 205B 23 TDF PP WN | 27,990 |
| | Godrej Refrigerator 221 Ltr RD EDGESX 236C 33 TAI GL WIN | 34,590 |
| | Godrej Refrigerator 231 Ltr. RT GFE 2700AD TH ST | 39,990 |
| | Godrej Refrigerator 231 Ltr. RT EON 231C NL AQ WN | 41,590 |
| | Godrej Refrigerator 240 Ltr. RT EON 240 NL AQ BL | 45,090 |
| | Godrej Refrigerator 240 Ltr. RT EON 240 NL AQ WN | 44,990 |
| | Godrej Refrigerator 240 Ltrs RT EON 255B SL HI TH ST | 52,590 |
| | Godrej Refrigerator 260 Ltr RT GFE 3000BD SL SR | 48,990 |
| | Godrej Refrigerator 260 Ltr. RT EON 260 NL AQ BL | 49,990 |
| | Godrej Refrigerator 260 Ltrs RT EON 275B SL HI TH ST | 58,290 |
| | Godrej Refrigerator 240 Ltr. RT EONVALOR 256B 25 RCF ST RH | 51,390 |
| | Godrej Refrigerator 240 Ltr. RT EONVIBE 256C 35 HCI SK PR | 52,990 |
| | Godrej Refrigerator 240 Ltr. RT EONVIBE 256C 35 HCI SK WN | 52,990 |
| | Godrej Refrigerator 260 Ltr RT EONVIBE 276C 35 HCI SK PR | 56,490 |
| | Godrej Refrigerator 260 Ltr RT EONVIBE 276C 35 HCI SK WN | 56,490 |
| | Godrej Refrigerator 331 Ltr RT EONVIBE 346B 25 HCIT ST RH | 65,590 |
| | Godrej Refrigerator 350 Ltr RT EONVIBE 366B 25 HCIT ST RH | 72,890 |
Godrej Refrigerators Price in Nepal - Updated on January 2023